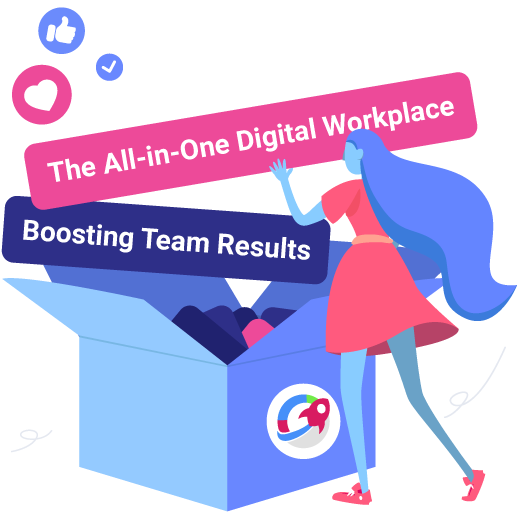 Choosing the Best Team Communication App: What to Look For
What is the best way to choose a communication app for your team? In a pool of many, to achieve true efficiency and productivity means to make the right choice and make it consciously. Read this article to find out how to do it.
Tsvetomira Petrova
8 min read
Teams need constant communication – it is the one pillar they cannot go without. In our day and age, when the office is not the everyday hub for togetherness as it used to be, communication needs to take place, effectively – digitally. Enter – the team communication app.
Investing in a team communication app is no longer optional – and the need is only going to deepen in the time since remote teams are becoming more and more common while results need to keep up.
What Is a Team Communication App
А team communication app is a digital platform for communication between teammates that keeps everyone connected around project status, easy file sharing, and collaboration around data analytics. Such an app is arguably the most used tool in any team's day-to-day workflow and provides synchronization for both in-office, remote, distributed, and hybrid teams. Communication apps are the solution to any lack of face-to-face meetings, providing an innovative approach to seamless team collaboration.
With a team communication app, the people working together should be able to:
Always Stay Connected
Teams need to be able to always stay in touch, with virtual team meetings, discussions, sharing of content and overview of projects, as well as brainstorming and feedback


Have Visibility
A team needs visibility and ownership into deadlines and expectations. Communication apps can help give a high-level overview of tasks, projects, campaigns, providing trackability.
Manage Tasks
The heart of any project or campaign is the tasks and subtasks they consist of and the people assigned to them. Through task management, in a chat app, you can make sure all specialists stay on point with their specific responsibilities.
Follow the Data
In many communication apps, the ability to see gain insight from data and follow them in the decision-making process is lost. Fortunately, there are apps that provide options for dashboards and analytics to work seamlessly within your communications, helping with more awareness and gravity towards results.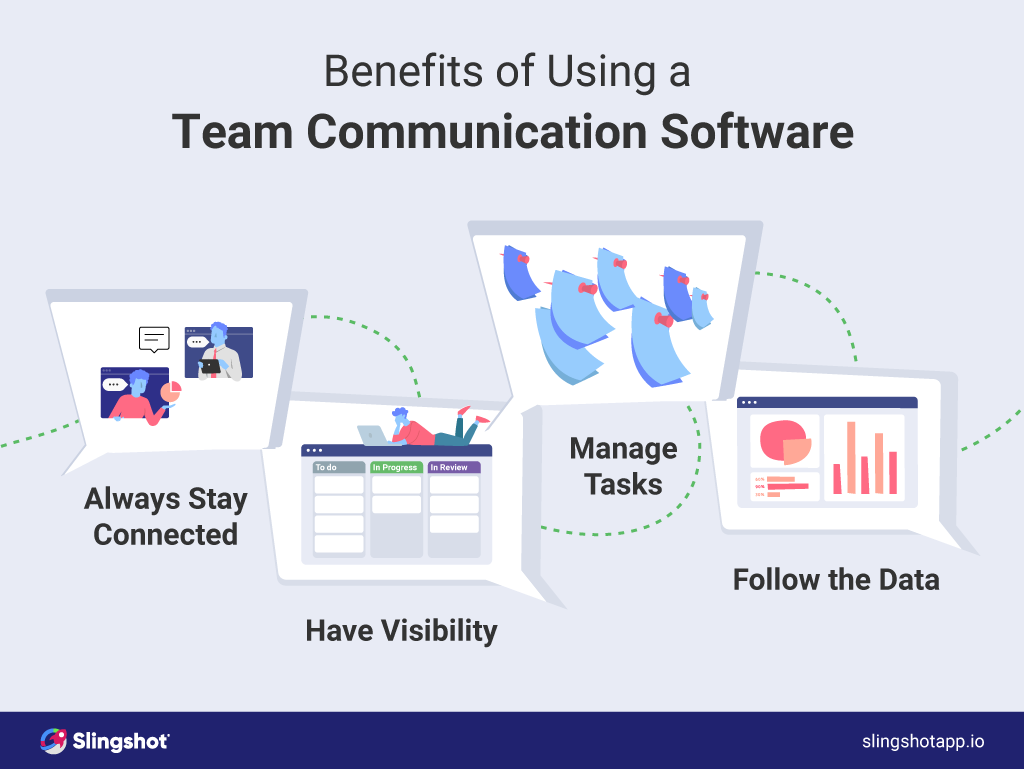 Why Is Communication in the Team Important
So why is communication the oh-so-essential tool that brings productivity and creates strong working relationships? The short answer is: it builds trust and ultimately leads to greater productivity in the day-to-day work, bringing the motivation and organization to the next level.
Communication in a team is a multi-level process with one goal: bringing productivity, integrity, and focus into any environment. Staying connected with your teammates has been a challenge since Covid-19 hit, so it's not surprising the need for even more collaboration tools is rising. Here are five key reasons why communication in your team is vital.
Brings Better Strategy

If your team is always in discussion, both on the task level and project level, they stay on top of the overall strategy and nothing falls through the cracks. Strategizing together is key for bringing forward the best results and staying on the same page every day.
Provides Clear Goals
Team communication helps with efficient and clear goal-setting both for the team and individual. Through outlining requirements, you make sure the focus is set for everyone and that your team has awareness of all objectives, so that they are delivered on time.
Helps with Prioritizing
Communicating daily on tasks and setting them with priority is vital for driving your project forward and having everyone aware of what needs to be done and when.
Reduces Potential Blockers
Good team communication in a chat app shows clear risk for blockers of time and where resources might need to be moved to hit deadlines. This reduces delays and helps bring more productivity overall.
Gives Insight into the Big Picture
Having your communication on a high-level means having a good overview of the big picture – both in the small and the large things. Overviewing tasks and data and discussing them so you can take action based on them gives any team a great advantage.
Why Your Team Should Use a Communication App
Any team can use a communication app to "find their groove" and businesses should strive to provide the best one to cover all bases in their day-to-day work. Collaboration and communication apps save time and increase productivity immensely in several important ways.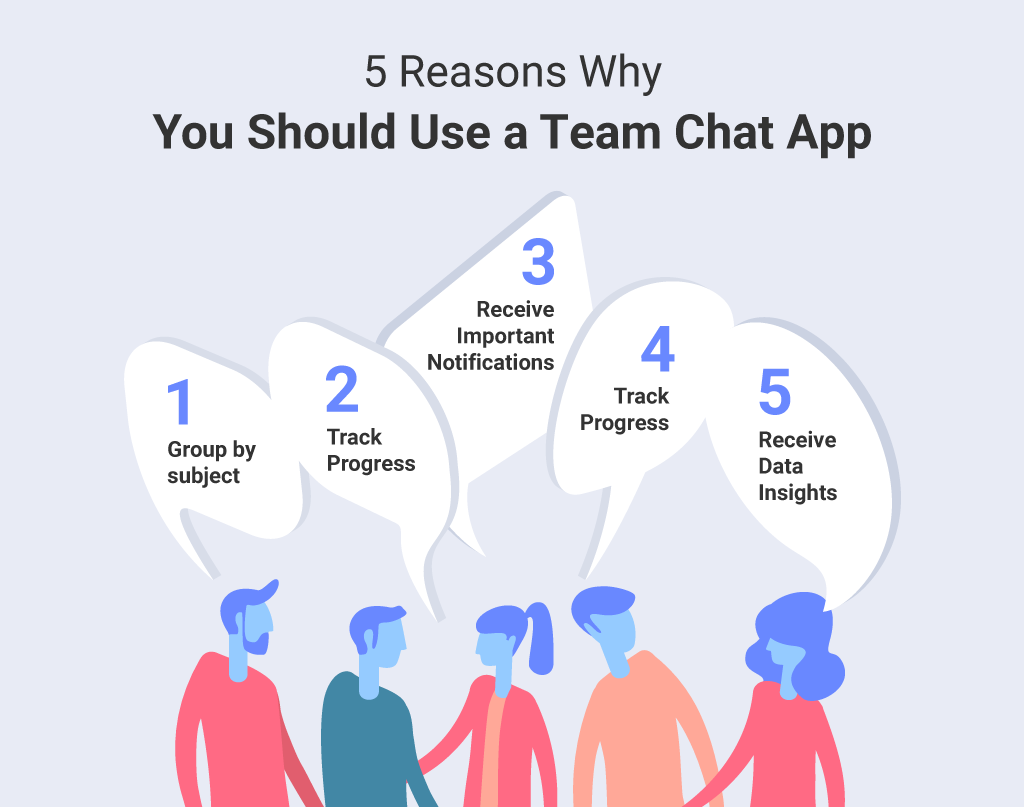 Grouping by Subject
In business communication, there are important divisions regarding projects, departments, etc. To keep the wheels turning and have all assets organized by topic, the team can depend on a communication app to provide grouping per function or project and switch easily between them.
Tracking Progress
In a communication app, teammates can overview and track progress with due dates on each task. This simplifies collaboration and helps to keep things from falling through the cracks.
Important Notifications
Teams should always stay connected to their goals and with notifications in the communication app, this happens much easier – especially when people on the same team do not occupy the same physical space or even country.
Sharing Content
Assets of any type are inevitably flying among team members daily, and this happens smoothly within a good communication app. Sharing and working collaboratively directly within it, with an option for external collaborators even, helps with organization and speed of task completion.
Data Insights
In a communication app, there can be options for data analytics to provide the team with the ability to make decisions smartly and not basing them only on intuition and gut.
What Makes a Great Team Communication App
Let's take a look at the must-have features for a team communication tool that bring more results and help your projects stay on track.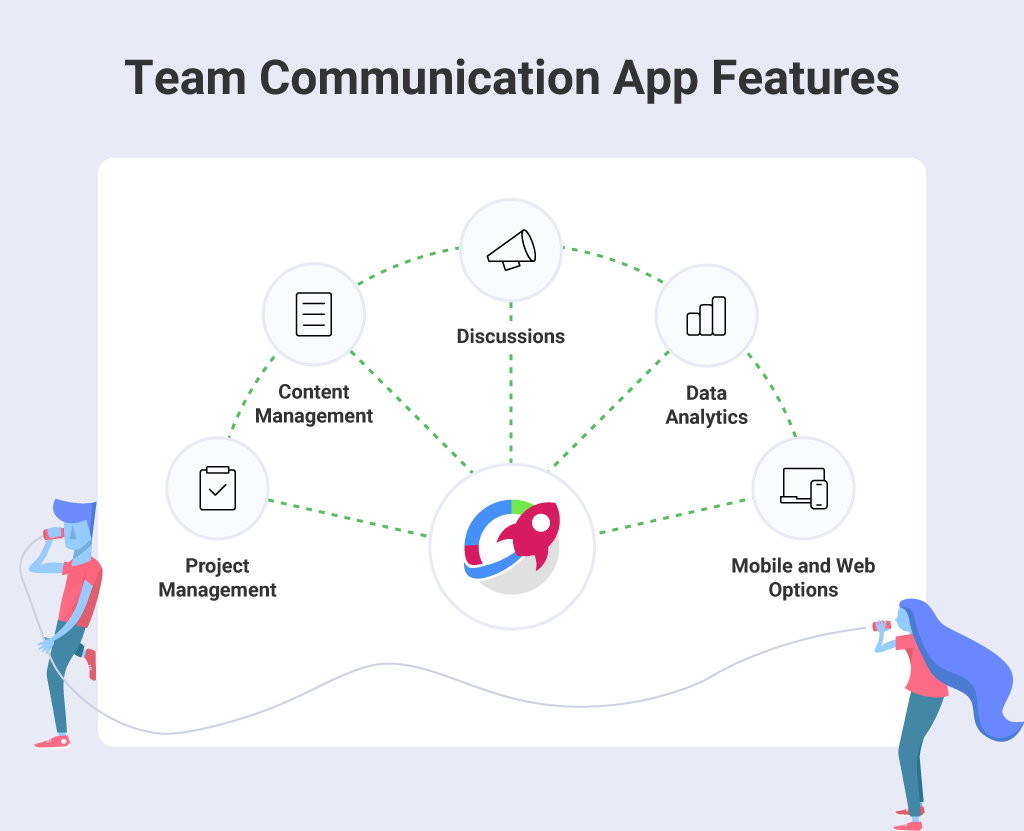 Project Management
All aspects of a project, from planning to execution should be organized in the chat app of your team – so project management features, helping with task management, deadlines, dependencies, priorities, and ownership should be clearly outlined with its help.
Content Management
It's important that your team can share and work on documents easily and keep all assets in one spot, so nothing is lost and there is no constant switching between multiple apps. It's best to have a good integration of third-party cloud storage apps into the platform you choose to use. It's also important that your tool gives robust integration opportunities for usage of tools such as Dropbox, Google Drive, etc., for easy shareability
Discussions
Your team needs to have seamless options to communicate in-app and collaborate on individual tasks, tag each other, and keep up with projects, sharing comments, feedback, and ideas, all while keeping a record of discussions that everyone can refer to at any time.
Data Analytics
Even though not every chat app has it, this kind of feature is highly beneficial when it comes to making decisions based on key facts and quick analysis.
Mobile and Web options
Online collaboration tools should be able to function properly on mobile and desktop. The best chat apps need to be highly accessible and a go-to communication tool wherever they are at the moment. Availability on mobile and desktop and having identical functionalities and convenience is a must-have for team chat apps.
How Slingshot Can Improve the Communication in Your Team
With teams that don't necessarily work at the same place, being productive hugely depends on the communication app you choose. A solution like Slingshot is the answer to solving the chaos of any obstacles and here is how.
Data at the Core
Slingshot is a business intelligence tool that provides dashboards and analytics and helps teams connect to the data in a meaningful way With data-driven characteristics it helps teams stay on top of current data for campaigns, KPI tracking, and gives them the ability to go from insight to action in seconds.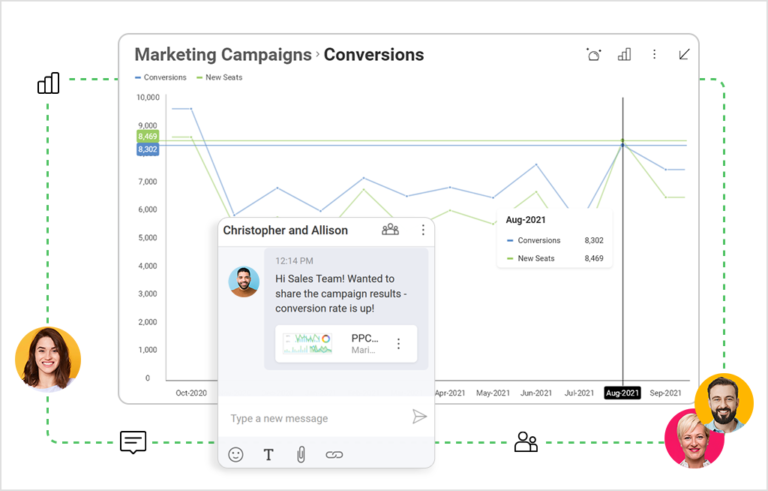 Task Tracking
As a project management and collaboration software, Slingshot serves as a planning tool for the team, helping with ownership, and division of tasks and allowing for tracking the progress of everything day by day
Discussions in Context
Slingshot has chats at the task, project, and dashboard level, keeping all activity of your team united and without a need to app-switch.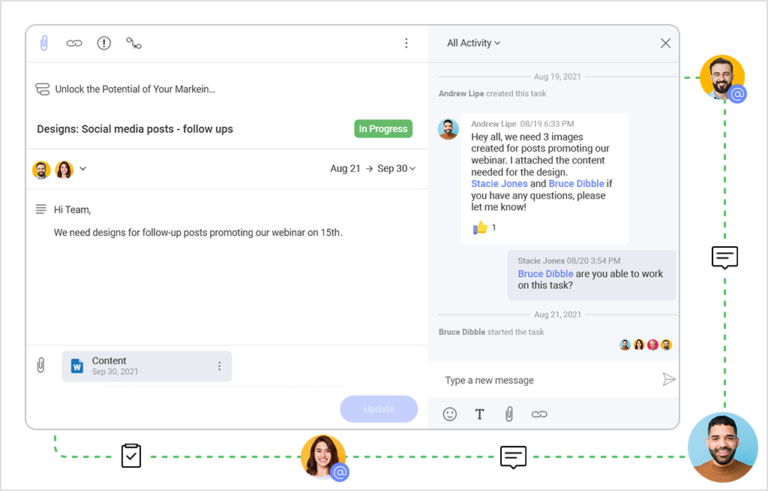 Clear Ownership
With its project management features, Slingshot assists with ownership, division of tasks, and keeping tabs on any issues or blocks throughout campaigns.
All Digital Assets in One Place
Slingshot unites every digital asset in one place, so your team can collaborate efficiently across all time zones and always have access to the most updated files. Your cloud providers are integrated into the app, allowing for the upload and/or linking to any file – so each team member has access to the most recently updated files on a task level.