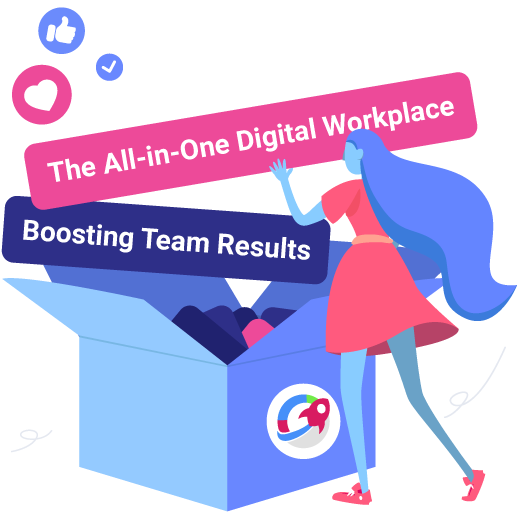 Choosing the Right Document Management System: What to Consider
Relying on documents is inevitable; but is the clutter inevitable too? Definitely not! Let's see how with choosing the right document management system any business can find efficiency, productivity, and focus - all necessary elements for creating an effective workflow.
Tsvetomira Petrova
11 min read
It doesn't matter if you're running a big, medium, or startup company – documentation clutter is something everyone in the business world has struggled with. To operate seamlessly and – in our day and age – from everywhere, teams need to be able to quickly find, upload, send, and share documents in their day-to-day operations.
What Is a Document Management System
A document management system or a DMS is an automated software solution used to organize, secure, manage, store, receive, and track documents of any kind. Such a solution can provide cloud storage, digital document management, and workflow in a system that gives access to the team operating the documents in question.
The most important thing a DMS provides is a stream of information to the right people with no disruptions, in a constant flow, and no misplacement of important files. It creates necessary access to information in one central place online, enabling multiple team members to use and access the same up-to-date documents, work in them, and save time searching in multiple channels.
Importance of Using a Document Management System
Since documents are the building block for any team and business, a document management system could play a central role in the day-to-day work of any department. Viewing, sharing, and working on documents simultaneously is indispensable, especially in projects where everything is time-sensitive and reactions and access to docs need to be fast and efficient.
Choosing to use a document management system could bring your team and organization to: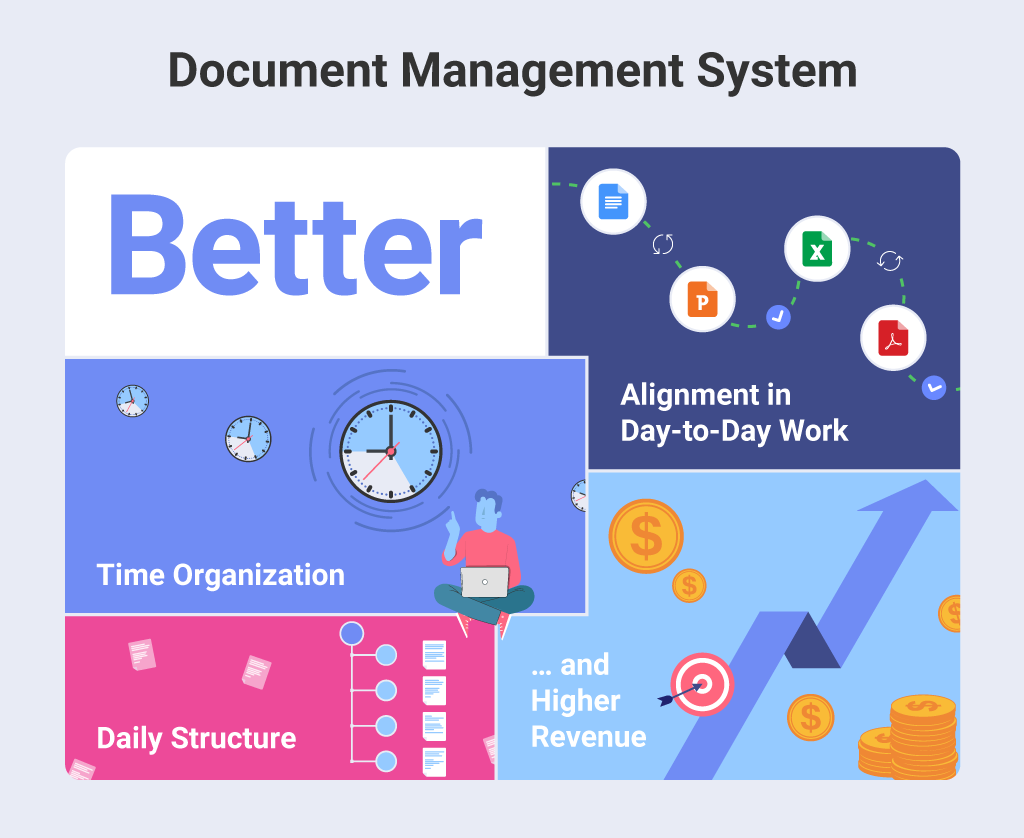 Better Alignment in Day-to-Day Work
Scattered documents, constantly searching for what's the most updated version, and switching between multiple channels to find them could be life-changing
Better Daily Structure
Document management systems provide structure with documentation, ability to manage it faster, easier, and more efficient than ever, so the team can get rid of the digital mess that is hurting the productivity
Better and Higher Revenue
A recent study shows that companies operating on revenues between $500k and $1 million can save as much as $40k per year just by operating with a document management system. Workflow efficiency and removal of mistakes in file operation brings greater staff productivity and leads to bigger revenue and cost-saving
Better Time Organization
Another study shows that work overload leads to seriously decreased productivity in 68% of employees. A workday only has so many hours – with a document management system, you save a lot of them and the focus is placed on the right things instead of constantly sifting through files. Turns out, on average, employees spend 1,8 hours every day and 9,3 hours per week searching for information. 
Benefits of Using a Document Management System
Having and managing all important documents in your organization digitally could prove difficult if the right document management system is not utilized. It provides the foundation for streamlining processes and keeping the team in flow with any file they need to access or share, at any time. Here are five of the top benefits a document management system provides.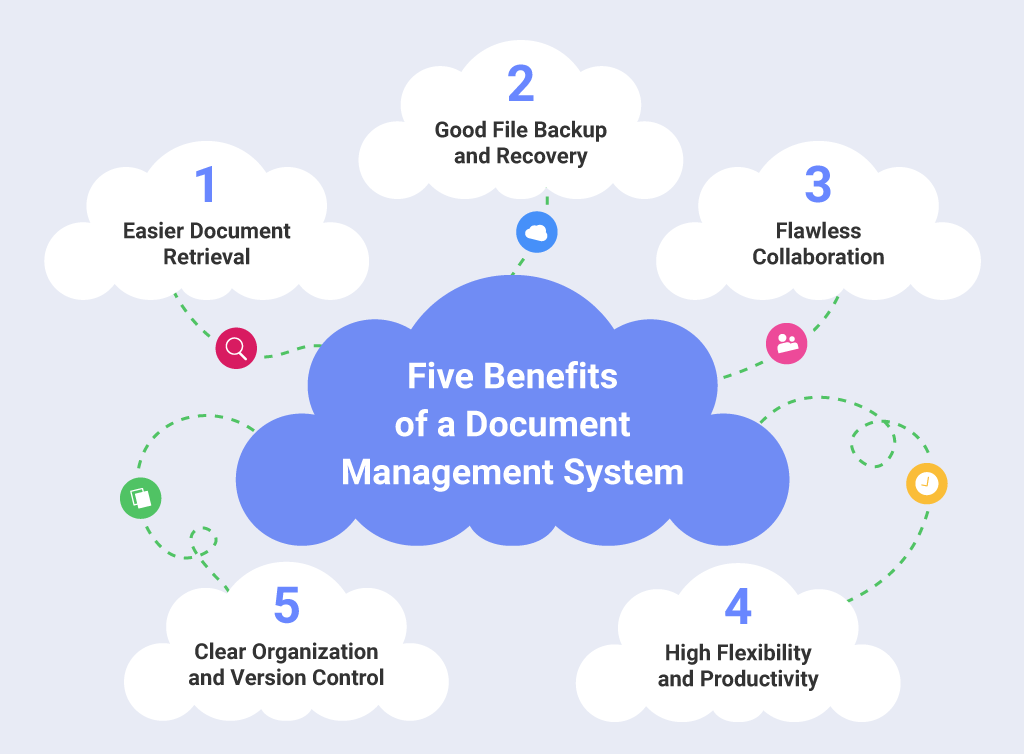 Benefit 1: Easier Document Retrieval
Finding and retrieving the needed documents is truly time-consuming if there isn't an organized system in place. Having a document management system providing the necessary quick access to critical information brings powerful growth in productivity and reduces the time limitations that can bring complex trouble and delays in important projects
Benefit 2: Good File Backup and Recovery
High traceability, cloud storage backup, and protection of documents from getting lost could save your team a lot of discomforts. With a DMS, traceability is ensured, can be tracked easily and this reduces the risk of mishaps. A DMS also helps with security issues, since 41% of companies have over 1,000 files with sensitive information – the right document management system could at any point show who viewed, worked, or modified a document.
Benefit 3: Flawless Collaboration
Document access, content management, and collaboration are simplified tremendously with a document management system. Business momentum and processes are monitored precisely, projects and campaigns have high visibility on assets and the workflow is monitored. Good document management systems also provide for controlled access by external users, so collaboration can go on an entirely new level.
Benefit 4: High Flexibility and Productivity
Having your documents highly organized and efficiently accessible can bring forth a never-before-seen burst of productivity for your team. When everything is dynamic and day-to-day needs are always changing and demand a quick reaction, a document management system provides the needed comfort by bringing together flexibility and productivity.
Benefit 5: Clear Organization and Version Control
According to one survey, 33% of team members have issues and problems with version control of documents in their day-to-day work. When you're constantly sending each other files, finding the latest version of something could prove to be a true challenge. In a document management system, any edits and modifications can be tracked, people can work on the same doc simultaneously and you can always see document history, to access the most up-to-date version. It provides peace of mind that what you need is always there no matter what.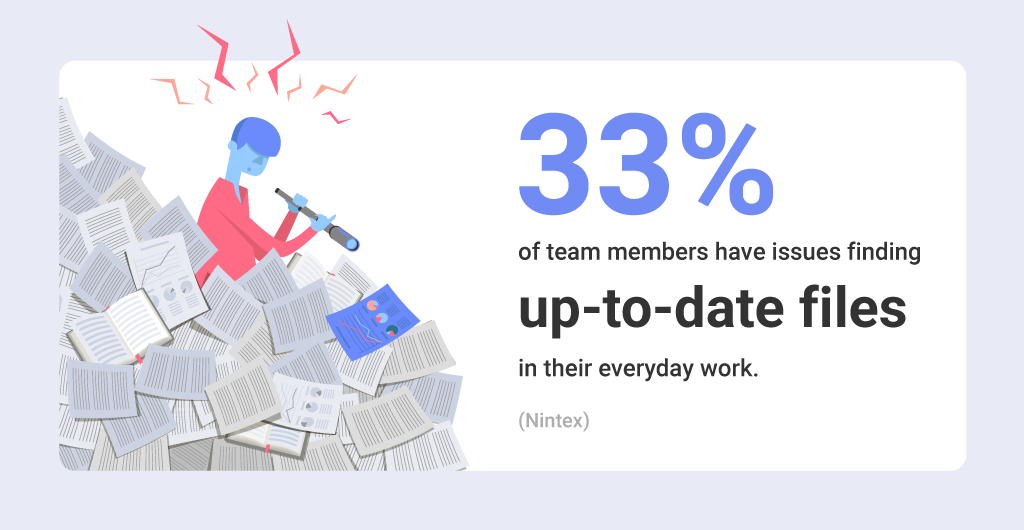 What Features Should a Document Management System Have
Although there are several types of document management systems (which we will cover in a minute), there are several functionalities that should be standard in such a tool. Their importance is big for any industry and so in choosing the right solution for your industry and team, these elements need to always be present.
Search Function
It's important to find the needed document immediately and fast, no matter how long ago it was created, if the project/task is finished or not. A document management system should have a good search function, with the ability for categorizing and referencing the needed files
Controlled Access
A solution for document management should provide permissions and controls that allow for external people to access only specific documents, in a digital environment. Permissions should be set easily, so some files stay secure while others are accessible for particular people. 
Cloud and Legacy Systems Integration
Retrieving a document fast and easy and always having the latest version is great, but what's even more valuable is the ability to provide integration with all the well-known, legacy systems, tech stack, and collaboration tools. Cloud integration helps to store documents safely, always protect your information, pin and share it easily, and much more. А cloud-based DMS also provides global teams (remote or distributed) to communicate and seamlessly work together, saving a lot of time in the process.
Mobile Version
It's safe to say that a document management system needs to provide an option for mobile access. This provides the team with flexibility and staying on top of things while on the move, and even though most people always work on desktop, having your documents accessible on the move (to check something, to review, to approve something, to look through urgent changes, etc.) is a feature that is really good to have.
Еdit, Save, Share
All documents that your document management system stores should be accessible for collaboration, edit, easily saved inside the DMS and shared in multiple ways. It is always a good idea to get a document management system that provides freedom in the modification of documents in one place, so nothing is ever lost in the context of a specific project.
3 Types of Document Management Systems
In the world of document management systems, you will likely come across many terms and definitions as to what such a solution stands for. To understand better what someone could mean when talking about a DMS, let's take a look at the three most popular types of document management systems.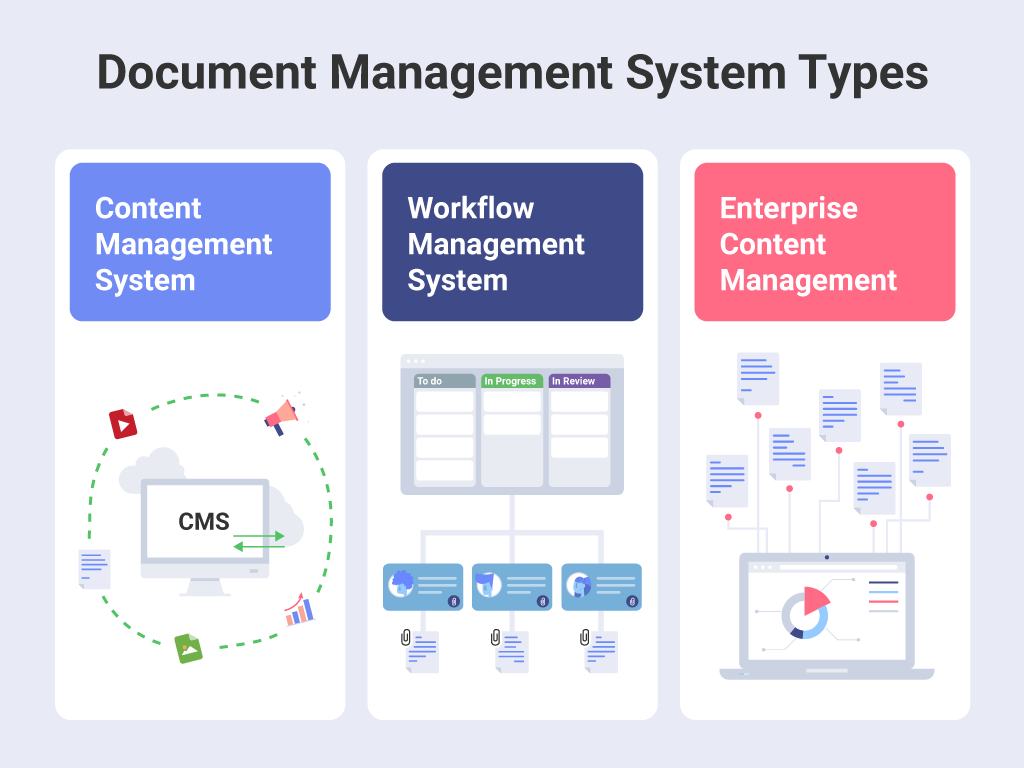 Content Management System
This type of document management system focuses on content – creating it, modifying it, organizing it, and sharing it with the right people. With marketing campaigns, event management, and other kinds of projects involving the use of smart copy and assets, this type of system is invaluable. Since content is one of the top pillars in any team, in any department, it's also important to think about an analytics tool here, that can analyze the impact of said content.
Workflow Management System
This type of document management system is where documents meet tasks. Organizing trackable tasks to each document, having the ability to connect a project, team, or workspace with specific files provides a true advantage in the workflow. It allows for tasks to be assigned to different team members, specify deadlines and follow the progress of the project.
Enterprise Content Management
With many organizations, data is a big part of the focus as is documentation. Enterprise content management systems bring that data together and analyze it, to provide insights and ideas for the next steps. Visualization options and the ability to build data dashboards also provide important context and bring data analytics to the next level.
All those main types of document management systems could bring an organization into a flow. Combining these features in a single solution could put an end to the chaos in the documentation. So let's take a quick look into the best way to choose a document management system for your needs and use cases.
How to Choose a Document Management System
To choose the right document management system for your team and company, there are several things to contemplate to satisfy all the business needs you might have. Here are some considerations to keep in mind when choosing a document management system.
Central Collaborative Features
Document management systems should provide centralized access control to the team to work with all files at any time and any place. Collaboration features allow the team to work independently when in different time zones and co-modify documents, as well as communicate.
Chat Features in Context
If the document management system has the option for discussions right in the context of the document. Chat features can bring even more collaboration between team members who have different functions in the project and use the same files for their jobs.
Categorization Features
A good document management system specifies documents per project, team, at any level, so that there is a spick and span organization and order.
Other System Integration Features
Like we already mentioned, your document management system needs to "talk to" other programs flawlessly and have integrated features allowing for a wider range of options for your files and workflows.
Data Analytics Features
Documents should be seen, used in analyzed without a hitch, so a data analytics feature for excel sheets, results in campaigns, etc. should bring even more insights, bringing the company to the correct decisions and in time, bigger revenue to the business.
Facilitating Document Management with Slingshot
As an all-in-one solution for teams and document management, Slingshot provides collaboration on the highest level for both files, data, and discussions. It incorporates advanced project and company file management, chat, and data analytics and brings quality for any business or industry, thanks to its many combined features.
With Slingshot, companies can count on task tracking, managing, and storing documents, but also, as a business intelligence tool the app provides dashboards and analytics and helps teams connect to the data in a meaningful way.
Slingshot serves as a planning tool for the team, helping with ownership, and division of tasks and allowing for tracking the progress of everything day by day
It revolutionizes project management by division of tasks and keeping tabs on any issues or blocks throughout campaigns
Keeping it all in one place, Slingshot is the cloud-based, AI-infused hub for all needed documents, so your team can collaborate efficiently across all time zones and always have access to the most updated files.
If you are interested in a demo or have any questions, drop us a line here.