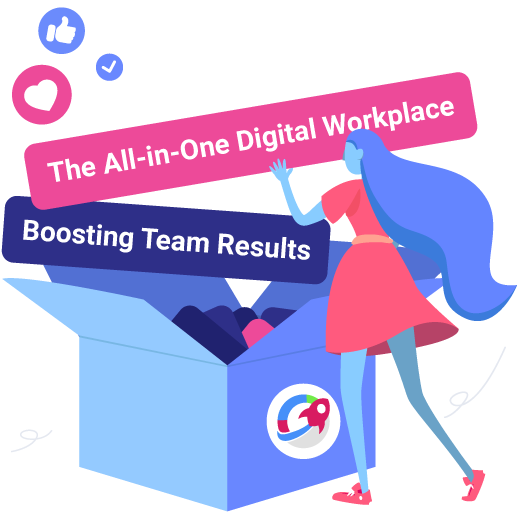 Тop 17 Task Management Tools and How to Pick the Right One
When it comes to organizing our everyday work, task management and project administration can be the most difficult things to navigate. They require us to be flexible, quick and agile, to get the results we need. Every team needs a good task management application to help them tackle this challenge.
Tsvetomira Petrova
18 min read
But how do you choose? Flexibility, quick access, data analytics, visibility, and clever management are just a few of the features needed so task management software truly clicks for you. In this article, we've selected the 17 best task management tools, designed to keep you on top of things even in the most hectic moments.
What Is Task Management
Task management is the process of management of the full life cycle of a task or a set of tasks to achieve a certain goal. This includes:
Task planning
Task assignment
Task execution
Task tracking
Task adjustment
Task completion
Having task management means to identify, manage and monitor all the tasks that your team's daily workload. Speaking rationally, for them this is the most important thing in prioritizing in a relevant way and achieve their goals with no rush, but in a timely manner.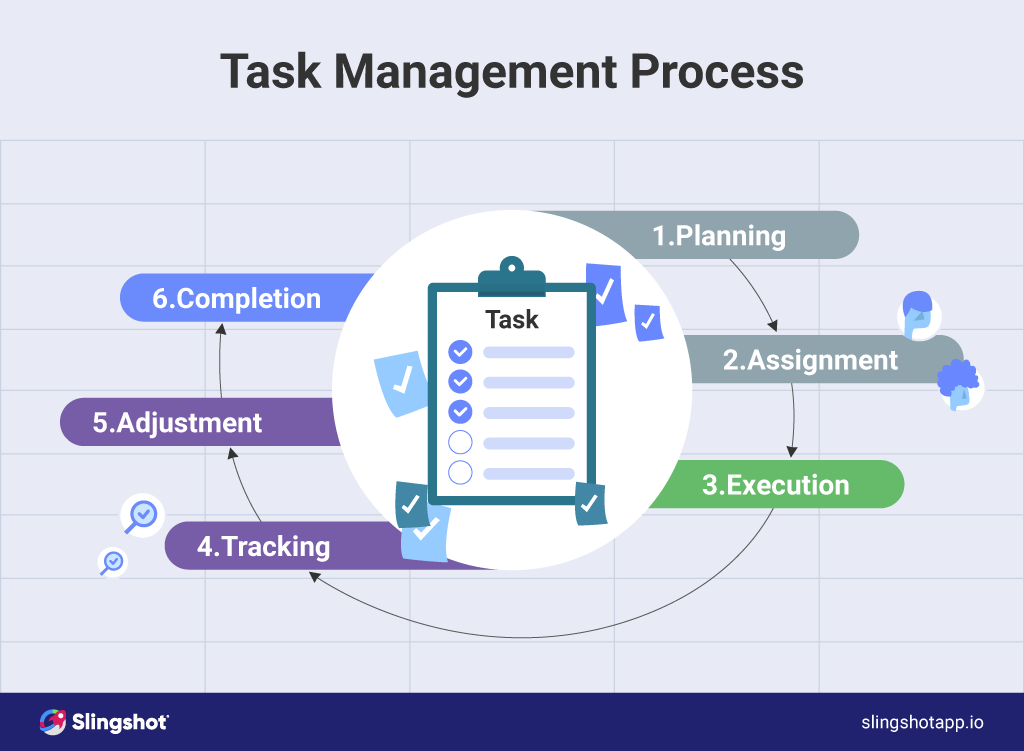 Why Is Task Management Important
Task management is what drives the timeline for project completion so that teams can meet their deadlines and the influx of expectations that come in. With task management, everyone on the team has clear deadlines for the tasks they are responsible for, dividing the different stages that need to happen with deadlines, dependencies, status, data, and even costs. All processes are effectively interconnected and streamlined with task management, so everyone is aware of all activities regarding the tasks.
The importance of task management is divided into three pillars.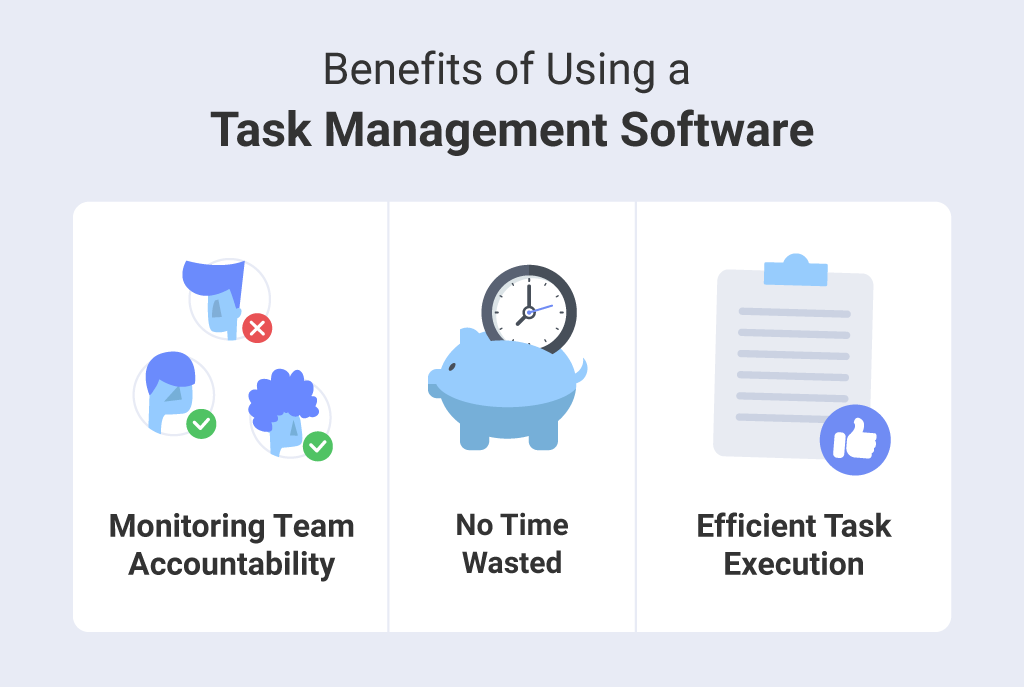 With task management, project managers and team members have a clear understanding of where projects are in
Efficient Task Execution
Tasks can get overwhelming as more and more projects kick off – at times you feel like you're drowning. People often find that without efficient task management, tasks completion time rises, and focus splits in many directions.
No Time Wasted
Breaking your project into several tasks with a task management system brings quicker response and good alignment that brings success in the common goals.
Аll of these processes, however, require the assistance of a good task management tool, so both the managers and the team can make sure the project's activities are properly supervised and accomplished.
Key Features to Look For When Choosing Task Management Software
To create strong a task management process, you need to make the right choice in the most essential tool to help your teams stay aligned. The day-to-day work of your team is a multi-level process that can be a challenge if you don't choose the one tool that helps with priorities, reduces blockers, provides crystal clear visibility, and give insight into the big picture.
So, let's look at the key features that task management software must have in order to bring flawless collaboration in tasks and processes, to help you choose wisely.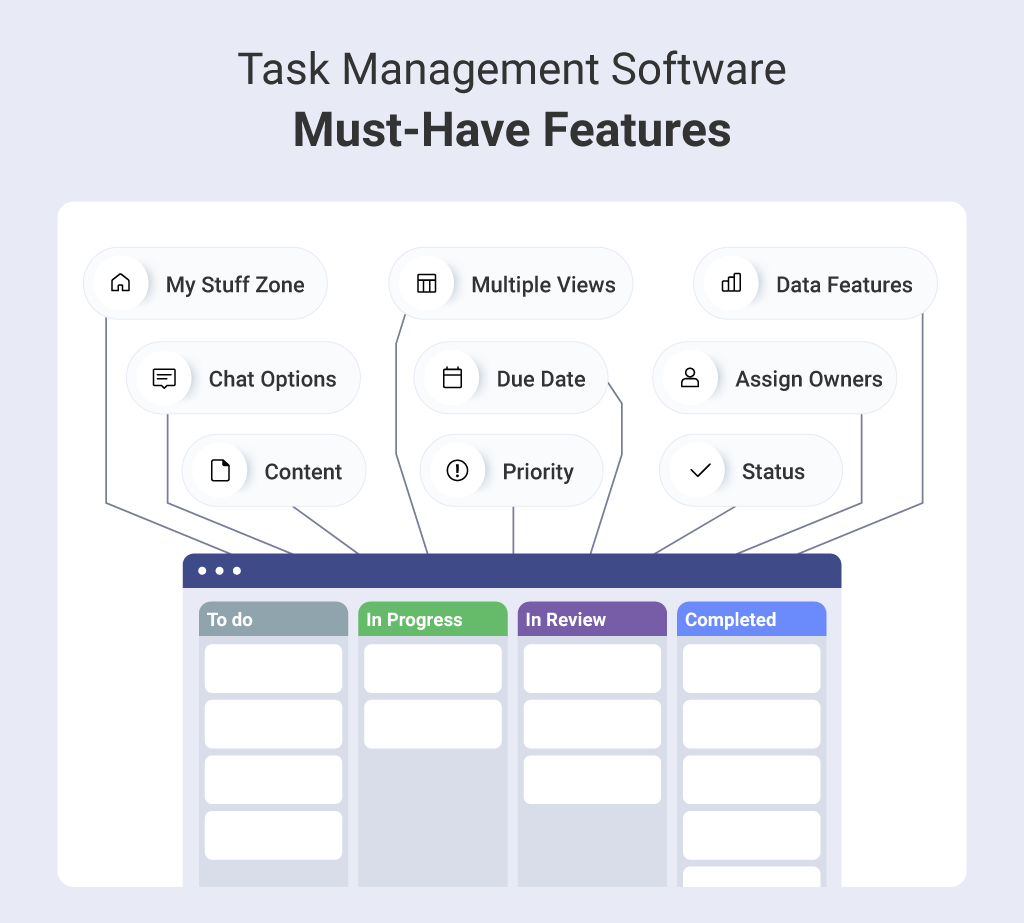 My Tasks/My Overview Zone
Your team should be able to quickly get an instant overview of their tasks, with due dates, and have the ability to filter them.
Multiple Types of Views
You should be able to see your tasks in several types of views, like list, kanban, timeline, etc., to help you get to what needs to be done quickly and filter via priority
Due Date & Ownership Setting
Tasks should be able to be assigned to specific team members, with due dates and visibility of processes
Priority and Progress
Tasks should have the ability to quickly set priority and statuses should be able to change, to give perspective on the timeline of completion ("in progress", "in review", "blocked", "completed", etc.)
Content Management
In your task management software, it's a great feature to be able to pin, share and attach content as a team, so you can always find the asset or doc you are looking for easily.
Data-Driven Features
Data analytics options can be really valuable in task management software, especially when it comes to campaign analysis, product releases, etc.
Discussion Оptions
To have a feature within your task management tool allowing for a chat with various team members that are working on the same project is great for keeping up with ideas, updates, and feedback in real-time.
So having so many options out there, how do you choose?
Project management
Seamlessly manage tasks, teams, and projects of any complexity from start to finish.
Use Template →

The Top 17 BEST Task Management Software
So, let's explore the following selection of the top 17 task management software tools to help you find out the one most relevant to your team's specific needs.
1. Slingshot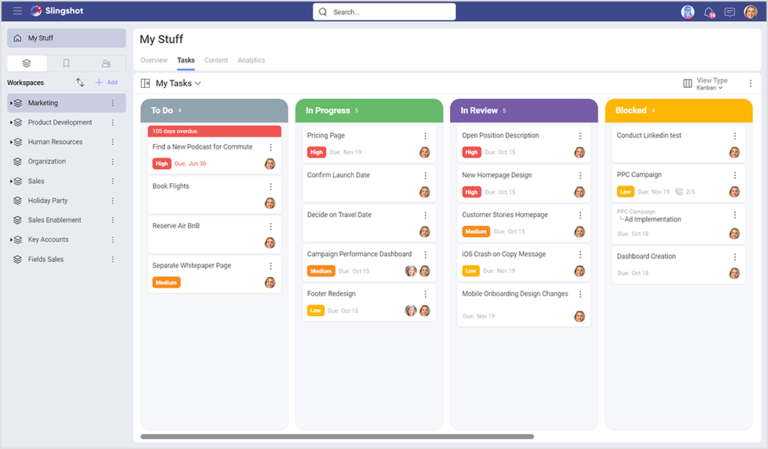 Overview
Slingshot is an all-in-one digital workspace that includes easy-to-use features allowing teams to organize projects, content, tasks, and chats, as well as data-driven integrated features for actionable insights.
Key Features
Slingshot helps you organize all tasks in lists and sections, choosing between different types of views and assign tasks and subtasks to different users, setting priorities, due dates, and blockers.
In Slingshot, you can organize your teams, tasks, and even departments in workspaces with many projects. It's also the only hub your team needs for bringing all their needed content together – from any cloud storage like Google Drive, OneDrive, Sharepoint, Box, DropBox (check out the whole list HERE), it allows for a drag and drop, upload and pinning links. Besides that, the app has a full business intelligence engine where you can connect to your data sources and create beautiful dashboards, which then teammates can use for analysis and data-driven decision making. The data analytics features within the app help with creating the right insights needed to change a course of action or simply learn the facts behind a campaign's success or failure. Chat functionalities are also there, both 1:1 and group and teams have a conversation in the context of the team or project they have entered. Different workspaces can also be shared with outside collaborators with limited access in Slingshot.
Best for: Project management, data analytics, task management, team collaboration
Pricing: Free for smaller teams and starts at $8 per user in its paid version, bringing more features and unlimited options.
2. Asana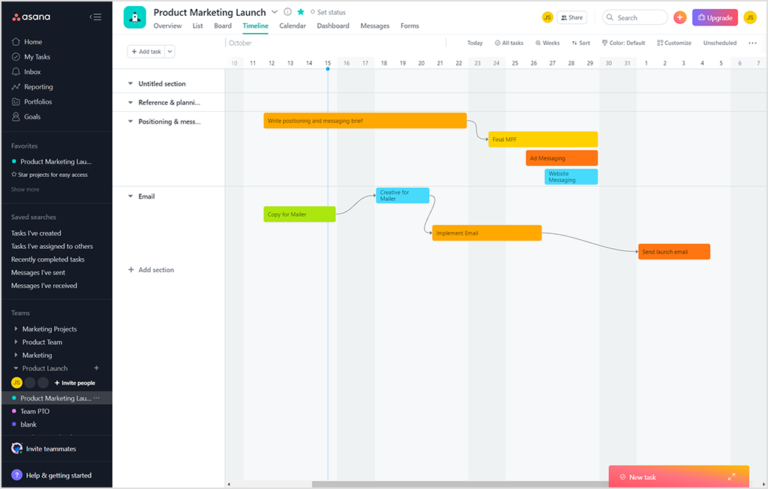 Overview
Asana is a project management and team collaboration tool specialized in organizing, managing, and tracking your daily work.
Key Features
In Asana, the team's workflow can be organized into shared projects and teams can create asks with assignees and due dates within those projects – from start to finish. Projects can also be broken into sections and in two styles – Kanban and List view.
Asana's task manager feature allows you to create, schedule, and prioritize tasks. You can add attachments, dependencies and customize fields. There are a variety of other functionalities that Asana's project management feature offers such as custom fields, forms, custom templates, dependencies, and more. Asana's reporting feature allows you to turn your hard data into easily digestible reports, that can be filtered to show just the data you want to show to update stakeholders and can be shared in several formats. Team members can communicate on task and project levels by leaving comments asking questions or sharing important details related to the project/task.
Best for: Team collaboration, task management, project management.
Pricing: Asana is free to use for teams of up to 15 members and offers a 30-day free trial and its premium feature version starts at $10.99.
3. Monday.com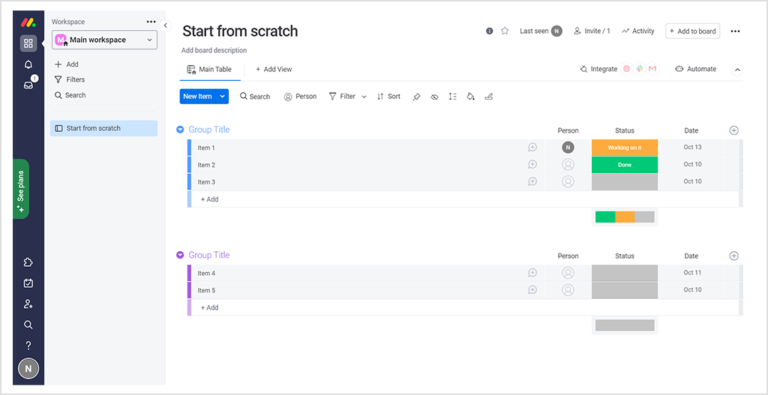 Overview
Monday.com is a platform for task management and collaboration of teams in workspaces.
Key Features
Мonday.com allows for a quick overview and management of the status of ongoing tasks and following up with team members who have taken on a particular task. Using drag-and-drop technology, the tool is easy to use and provides complete visibility and relevance in day-to-day work. You can choose between over 200 templates and customize them for your workflows, as well as create groups, that are a color-coded section on your board that contains your tasks. A group can be a week, a month, a specific step of a project, or whatever you want. Tasks are organized in boards, which are shareable with internal and external team members.
Best for: Team collaboration, work tracking, and project management
Pricing: It is free for up to two people and starts at $10 for paid plans.
4. ClickUp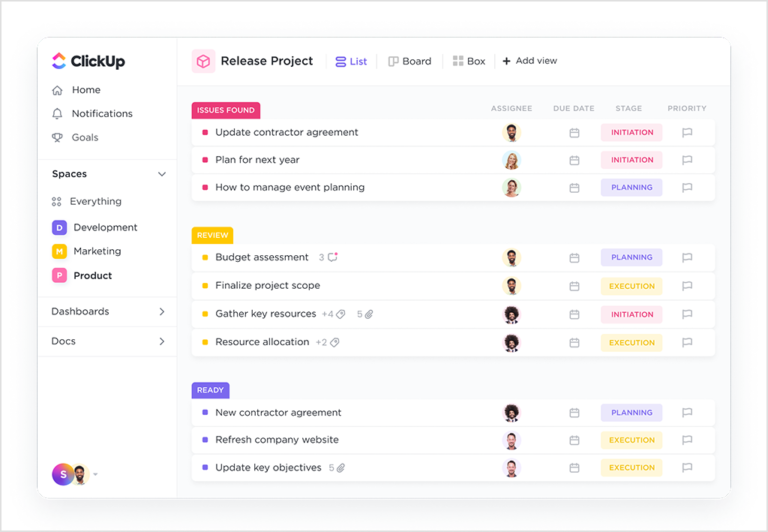 Overview
ClickUp is a task management tool that organizes teams and departments into Spaces, helps them group and manage their projects with a clear oversee of the day-to-day work.
Key Features
ClickUp offers teams the option to customize their task management by separating the team's work into different types of categorizations. The Spaces feature provides different business departments with independent space for their work. Projects and initiatives can be grouped into Folders and tasks – into Lists, providing a clear hierarchy. Another interesting feature is the ability to customize the task management with task automation, assigning Sprint Points, and adding Custom Fields data. Tasks can be broken down into subtasks and you can use ClickUpin 15 different views, as well as use over 1000 integrations of other tools.
Best for: Task management, project management, and overview.
Pricing: ClickUp is free for up to 100 MB of storage and stands at $5 per user per month for unlimited features and space.
5. Trello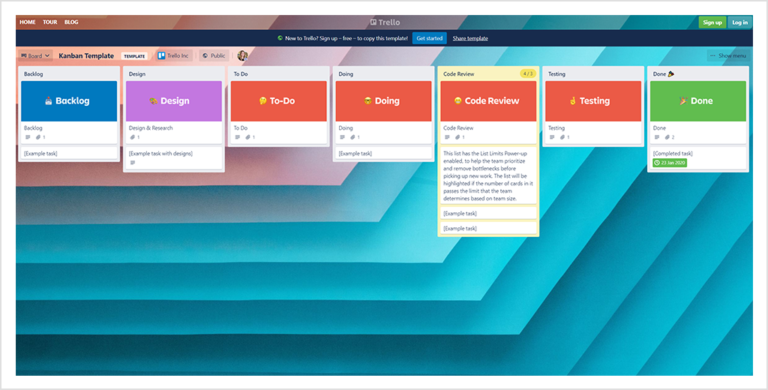 Overview
Trello is a collaboration and task management platform designed to track team activities and highlight and overview important moments in a task cycle.
Key Features
Trello operates at its core on the principles of a Kanban project board. In these boards, workflows are visualized and teams can easily overview a project from start to finish. Key features of Trello are boards, lists, and cards. In Boards, lists can be created to track the progress of a project, assigning the status of each task. The Cards feature is within the Lists – each Card holds information of specifics task and can be moved from list to list by dragging (for example, from an "In progress" list to a "Completed" list). Cards also allow text descriptions, file attachments, and comments.
Best for: Project and task management
Pricing: Trello has a free option for individuals or small teams and has a standard, premium, and enterprise plan, the cheapest one starting at $5.
6. Basecamp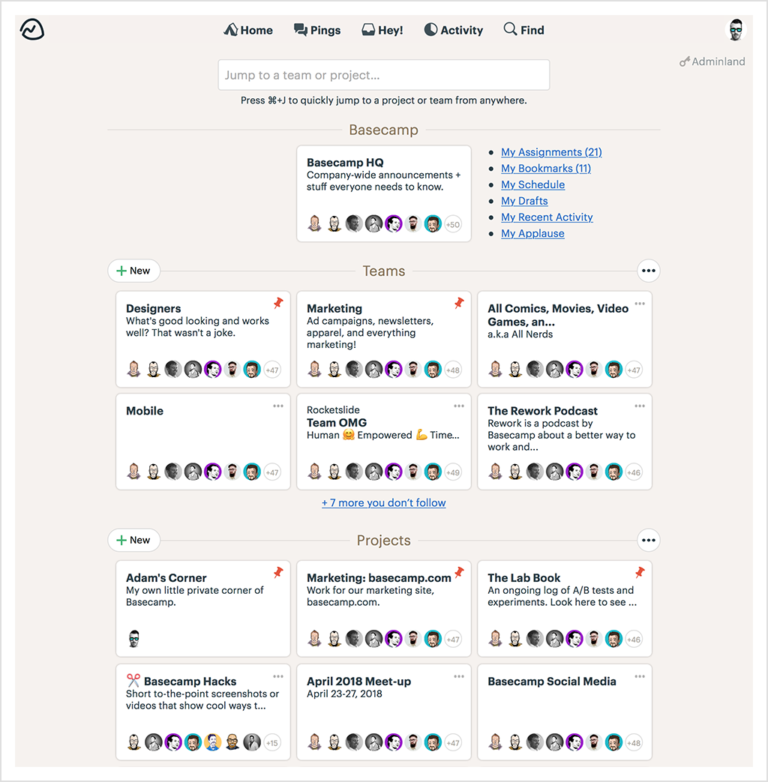 Overview
Basecamp is a project management tool that helps teams quickly find everything in their day-to-day work in separate projects.
Key Features
Basecamp combines features that assist businesses and groups of people in managing their personal or professional projects and tasks. It gives an overview of all text documents and files and has an option for discussions, so teammates can always communicate relevant to their work. It has a customizable option for choosing external and internal members to collaborate with and you can host discussions (group chats) and organize meetings and events in the app. Tasks are assigned and easily trackable and conversations are kept in Message Boards, so everyone always stays on the same page. Projects have the Schedule option, displaying to-dos, due dates, and events for the specific project. In Basecamp you can also upload documents, files, and images – or link through Google Docs.
Best for: Team collaboration and project management
Pricing: Free for up to 3 projects and 20 users, and $99 a month for unlimited users, projects, 500GB of space and priority support.
7. JIRA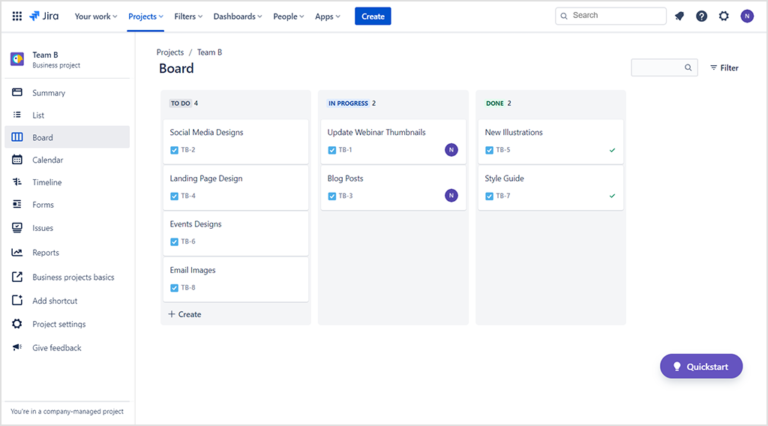 Overview
Jira is a tool used for project management, issue tracking, and workflow for teams.
Key Features
Jira is an issue tracking and project management software app, that is widely used by agile dev teams, but is currently offering services to other types of teams as well. Jira Core is for non-technical teams, Jira Software for software development teams, and Jira Service Desk serves IT teams.
Jira operates with Kanban and Scrum boards as main features. Within them, you get a workflow overview of your team's work. The Kanban workflow operates on a drag-and-drop system for tasks and tracks bug fixes, software development, and various projects. With Scrum boards, sprints and backlog is tracked in order to complete projects without delays, resolving blockers quickly by involving the right people on the team. JIRA offers business templates for managing tasks and provides the status of tasks, options for comments, attachments, and due dates in one place. It also supports over 100 add-ins for other software.
Best for: Project management, issue tracking
Pricing: Free for up to 10 users and starting at $7 for paid subscription plans.
8. Notion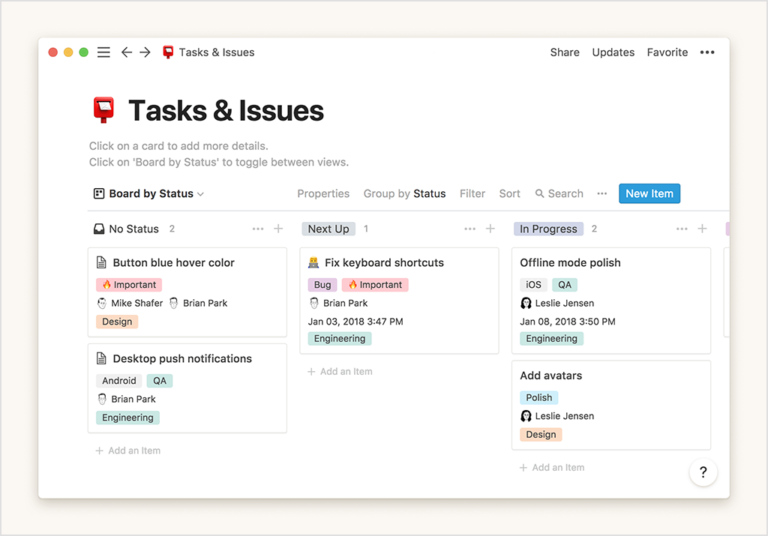 Overview
Notion is a software tool providing teams with data management, project management, and knowledge management.
Key Features
Notion provides a set of features such as notes, databases, Kanban boards, calendars. It is customizable and users can connect the components they need to create the management system they want for their project. Notion works with tasks and subtasks, as well as recurring tasks and Trello-style board views. Users can use the Database views feature that provides a different display of the tasks in the desired type of view: task list view, a gallery view, a calendar view, and a table. There is a Kanban boards feature that shows the status of all tasks by the name of the column the task is put in (with a drag-and-drop option). Another feature is Blocks, which essentially is a group of content, organized data, and documents that the team can access easily. The Pages feature gives details of every project, including to-do lists, knowledge base, etc.
Best for: Project management and team collaboration
Pricing: Notion is free for personal use and up to 5 users and has three more subscription plans, starting at $4 a month per user.
9. Infinity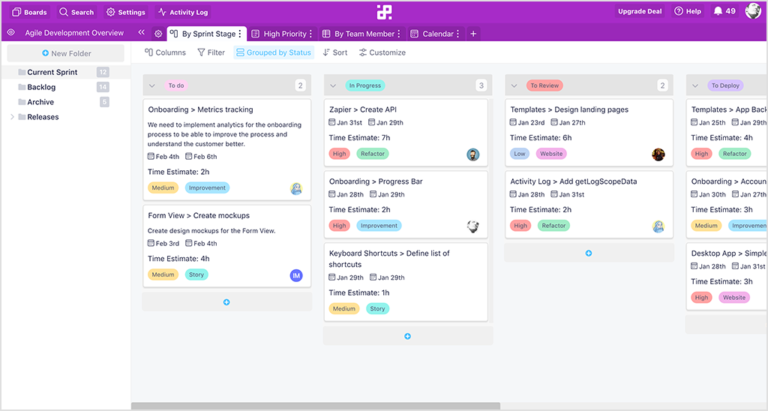 Overview
Infinity is a tool for project organization, team management and task management.
Key Features
Infinity offers a task management system with a variety of views for your team's tasks: columns, calendar, table, Gantt, form, and list. Within the app, you have folders and subfolders that provide an easy way to organize and oversee the work, creating an infinite structure within your boards. Data can be organized with filtering, sorting, and grouping and a new view can be created each time you open a new tab.
Best for: Task management
Pricing: Infinity's rate for plans starts at $9.
10. Airtable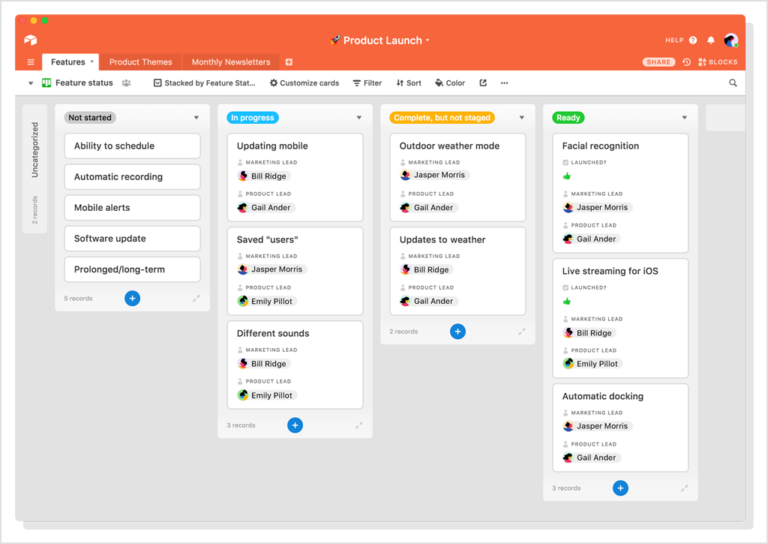 Overview
Airtable is a project management system with a flexible database and options for team collaboration.
Key Features
Within Airtable, teams can set up their workflow so they have a good overview of their tasks and their data in one place. It is based on a flexible relational data model and has options for adding attachments, putting in long notes for your teammates, checkboxes, and links. Tasks are assigned and grouped within several views for different use cases, with filtering and sorting that provide the freedom to arrange your work and make sure nothing falls through the cracks. Airtable allows for a shared collaboration between users on a shared view of table data and can pull data from other platforms like Salesforce, Google Calendar, Box, and Jira.
Best for: Task management, workflow overview
Pricing: Airtable has a free, limited option and several paid plans starting at $10.
11. nTask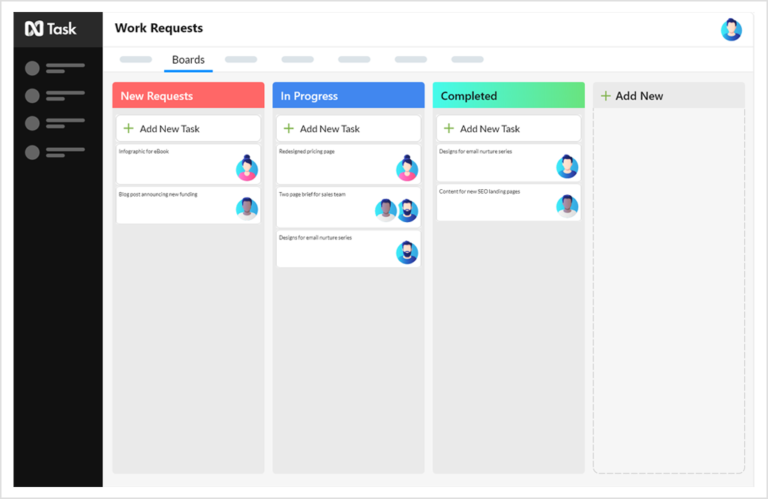 Overview
nTask is a project management software that helps teams collaborate, analyze and manage their day-to-day work.
Key Features
With nTask, teams can easily streamline task planning and execution, projects tracking, and task dependencies, as well as manage your project deliverables. The app allows you to manage your work in Kanban Boards and set Milestones in project planning, to keep the team's focus in one spot. There are features like status assignment, pre-built board templates, and task assignment, helping teams meet the deadlines more quickly. You can also view projects in List, Grid, and Calendar view. The app allows for attachments in tasks and leaving comments in each one.
Best for: Task management and workflow overview
Pricing: nTask has a free option with limited storage and starts at $3 for its paid plans.
12. Wrike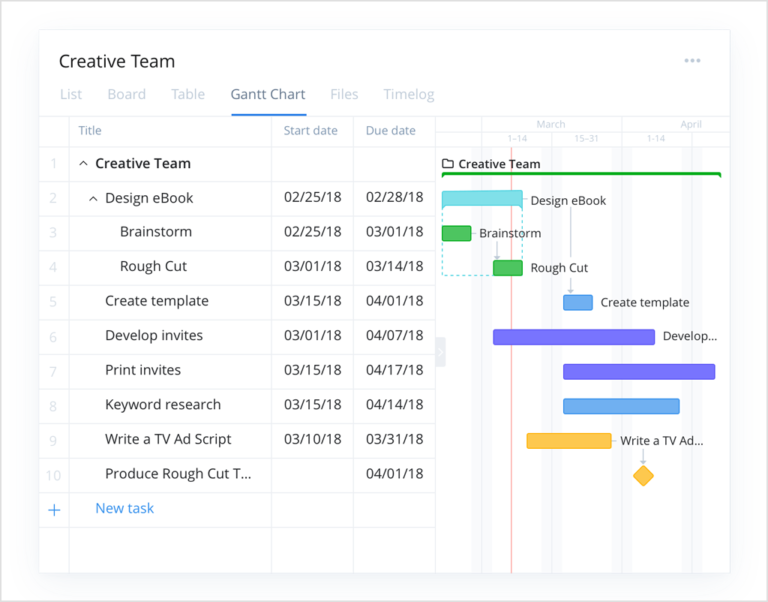 Overview
Wrike is a task management solution with workspaces for teams, customizable style, and multiple ways for organizing information.
Key Features
In Wrike, you can create custom workflows for specific tasks and in them, assing people, attach files and set the status. The app allows for project tracking by providing an overview of the schedule and setting dependencies with a drag-and-drop feature. You can manage your daily work in Projects, where you can customize dashboards and drag tasks to the assignment. Wrike allows for tracking the team's performance with the feature for creating dynamic data reports that are easily saved and shared with managers or stakeholders. There is also a workload management feature, to keep your team from burning out.
Best for: Team collaboration and task tracking
Pricing: Besides the free option, Wrike has three more paid plans, starting at $9.80 per user per month.
13. ProofHub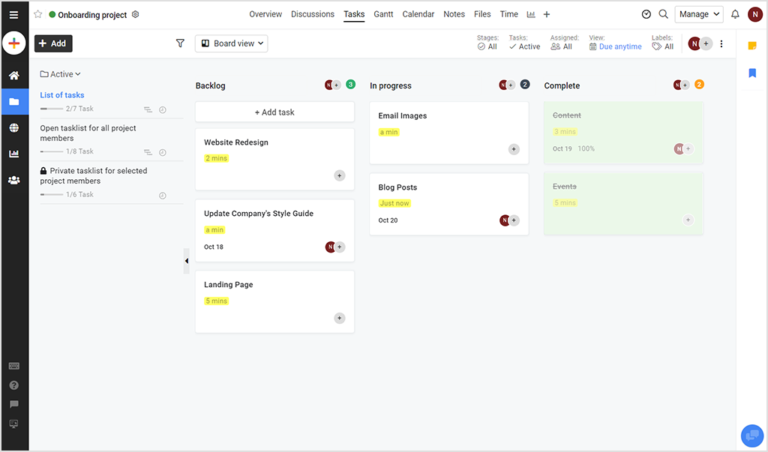 Overview
ProofHub is a project planning app that allows teams to plan, collaborate and operate to deliver projects together on time.
Key Features
With ProofHub, you can organize your projects in several types of views – Kanban boards, Table view, Gantt chart, and assign personal tasks to one or multiple team members. You can use customizable workflows and subscribe different people to each stage. In the app you get to have discussions, to make sure everything is clear or give feedback and you can start chats one-on-one or in a group. In subscribing to ProofHub calendar, you have the option to set reminders. Projects can be organized in templates and you can add and attach different files and documents in them, to keep your team always informed and help them find them faster.
Best for: Project management and team workflow overview.
Pricing: ProofHub is $45 /month billed annually for its Essential plan and 89 /month for its Ultimate Control plan.
14. Aha!

Overview
Aha! is a project, product, and tasks roadmap software that helps teams fulfill goals and initiatives by tracking the progress easily.
Key Features
Аha! provides a roadmap overview of product development and project delivery. It has three options for users: Aha! Roadmaps, Aha! Ideas and Aha! Develop. The tools allow for the visualization of the timing and progress of critical initiatives and milestones during the project's lifecycle, helping with the oversee of the teamwork. You can track deliverables, dependencies and use a custom portal to keep all ideas in one place. Features can be ranked, chosen, and used according to priority and the roadmap for your team can be viewed in a variety of templates, to quickly build the right one for the specific audience that will use it. Aha! also provides the option to create list reports and charts to view the data of your team's achievements and progress, to see if the set milestones have been completed.
Best for: Product and project management, workflow overview.
Pricing: All versions of the product have a free option for small startups, otherwise Aha! Roadmaps start at $59 per user per month, Ideas at $39 per user per month and Develop at $9 per user per month.
15. Todoist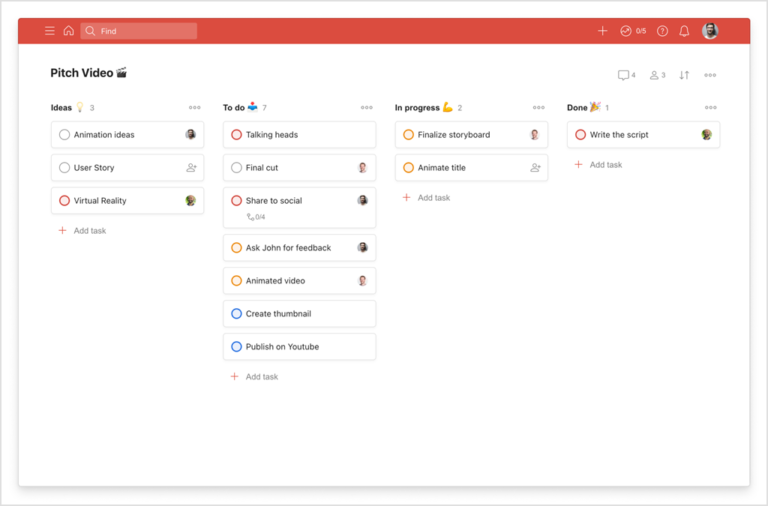 Overview
Todoist is a task management and project management platform that helps teams get a clear overview of their tasks.
Key Features
Todoist provides task tracking that lets teams add and organize their tasks in seconds, set due dates (or recurring due dates), and update sections and subtasks. It allows for setting priority levels, set Favorites for quick access, and set Reminders. Task views can again be personalized to fit your team's preferences with Kanban-style cards, themes, filters, and labels. Tasks can be added via email and you can connect Todoist with your calendar and files, as an organized hub with 10+ app plugins.
Best for: Basic project and task tracking and management
Pricing: Todoist is free for up to 5 projects and 5 users and has two paid plans, per $3 and $5 each.
16. Zoho Projects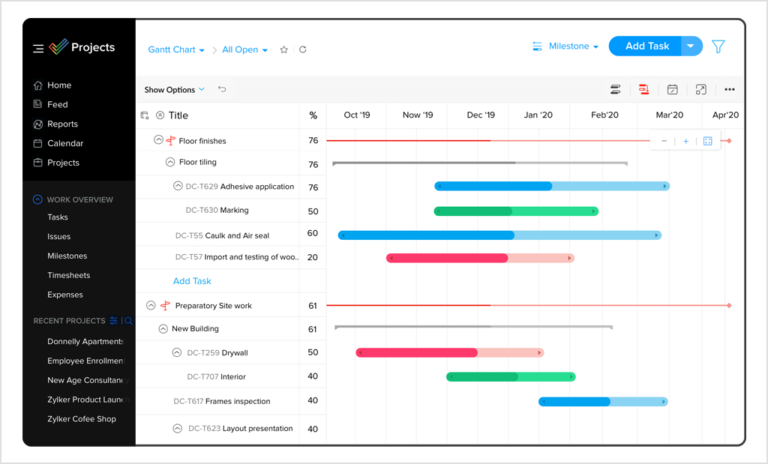 Overview
Zoho Projects is a task management app that provides teams with the ability to track their projects by breaking them into tasks and milestones.
Key Features
With Zoho Projects, you get a prioritized and adaptable task overview for your projects and the ability to set up dependencies to make sure you always stay on schedule. Assigning tasks to users and setting work hours for them are part of the most used features of the app. Visualizing the projects happens through Gantt charts and Kanban boards, with the option to add reminders. Progress is tracked through Milestones, with start and end dates and everyone can view their tasks as cards in different columns (in Kanban), as well as move them with the drag-and-drop function often used in this mode.
Best for: Project tracking and overview
Pricing: Free for up to 2 projects and 10 MB, with two paid plans standing at $5 and $10.
17. Clarizen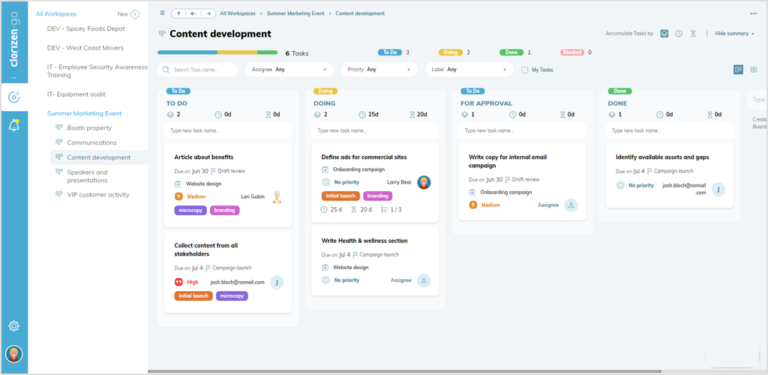 Overview
Clarizen is a project management software for teams who want to track their tasks with strategy, plan, and high visibility.
Key Features
Clarizen serves as a cloud-based platform for collaboration and task management. It gives real-time visibility of the day-to-day tasks and a 360° view of all resources and schedules. Clarizen has two products – Clarizen One and Clarizen Go, the first one aimed at enterprises and the second – at smaller teams, working in Scrum and Kanban. Clarizen has the option for automated workflow management. The work is divided into Panels with customizable windows where the teams can manage project portfolios with a centralized approach. The project portfolio can be reviewed, validated, and prioritized, and the project's duration and expenses are easily trackable with the project and product roadmaps the solution offers.
Best for: Team collaboration and project management
Pricing: Clarizen has a Limited and Unlimited plan, and pricing is given through an inquiry.