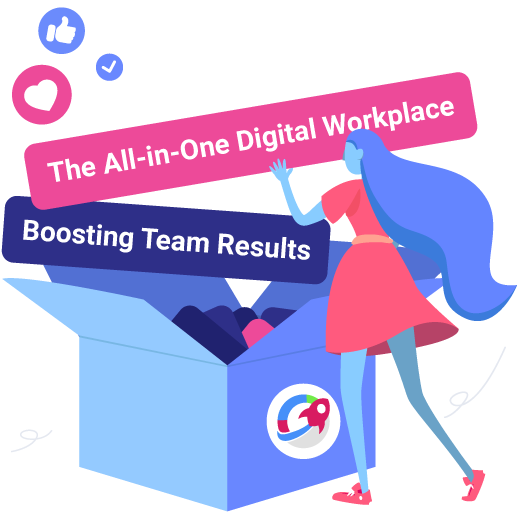 Advanced Analytics and How to Use It for Your Business
Together with business intelligence, data mining, and predictive analysis, advanced analytics gives businesses the pure advantage of knowing what works to their benefit and what steps to take next to ensure success. Keep reading to understand better what advanced analytics is and how to make it work for your business flawlessly.
Tsvetomira Petrova
11 min read
We live in highly technological times and if the recent trends have anything to say about it, the tech wave will continue to rise. All smart businesses know by now that our world is now shaped by big data and all the techniques to use to the best advantage. That's where the potential of advanced analytics comes in. A term often used for reference about obtaining insights from gathered operational data, advanced analytics generates value from selected facts that would otherwise remain meaningless.
What Is Advanced Analytics
Advanced analytics is a methodology of data analysis that serves as an umbrella for a variety of analytic techniques and tools businesses can use to get insights for successful outcomes. Advanced analytics can use predictive modeling, machine learning, business automation, business intelligence, big data analytics, predictive analytics, and other methods to find patterns in data.
The goal of advanced analytics is to inform smart business decisions and therefore, many innovative organizations choose to integrate it into their daily routine. By using advanced analytics, businesses go beyond common BI solutions and start relying on more sophisticated methods for insight that include:
Segmentation – Advanced analytics helps businesses group items and clients according to similarities
Correlation – The identification of similarity or relationships between customers
Association – Identifying the frequency of occurrences and an insights into the sequence of event
Forecasting – Getting insights into the future values, occurrences, and potential outcomes
In discovering trends and patterns, advanced analytics is a methodology that provides businesses with a smart way to solve problems, forecast issues, and make decisions based on facts and data.
The Importance of Advanced Analytics for Business
Using Advanced Analytics is an evolution for any business in the sense that it allows you to use dependable insights and integrate them into the decision-making process. Implementing Advanced Analytics helps with user empowerment and adoption and creates a better, smarter perspective. Let's look at some of the important factors as to why businesses should consider using this methodology.
Support day-to-day business decisions – Using Advanced Analytics tools can derive true insight into what to do next and help you see the specific steps


Provide perspective and analysis – Not using data properly means shooting blind and getting lost in the many options, but through Advanced Analytics the perspective is always clear


Improve agility and save time – Knowing when to switch lanes, try something new, improve on the old or use something that is proven to work comes naturally through using Advanced Analytics tools to interpret data
In short, an advanced analytics solution is what an organization would want to use to maximum results, quick adaptivity, and organization of assets. And seeing how the global market for advanced analytics is expected to grow to $281.0 billion by 2024, it would be a significant improvement for any organization to try and utilize its benefits. So let's take a look at some of them now.
5 Benefits of Using Advanced Analytics
According to a report from MicroStrategy, a whopping 90% of businesses say that data and analytics are of utmost importance in their organization's processes and digital transformation. Using analytics smartly leads to a rise in productivity, better and smarter decision-making, and cost savings in the short and long term. So let's take a look at the top five benefits of using advanced analytics.
Benefit 1: Smarter Decision-Making
Using advanced analytics significantly improves the decision process in any organization, turning it essentially into a data-driven decision process and becoming better equipped for making sensible and ultimately beneficial choices
Benefit 2: Automation of Processes
Business effectiveness is greatly increased by the automatization of processes. According to a report, businesses can automate 69% of time spent on data processing, and that way they can reduce costs from processing tasks and business activities manually.
Benefit 3: Identification of Risks
Having the ability to predict behaviors gives businesses the benefit of choosing a strategy with the least amount of risk. Through advanced analytics future outcomes can be viewed through the lens of key insights to create smarter strategies.
Benefit 4: Predictive Modeling
With predictive modeling, organizations can quickly get to the root cause of any issue and improve their future decisions based on that cause.
Benefit 5: Ability to Tailor Campaigns
You can forget about spending resources and money on advertising campaigns that probably won't work: through analysis, you can observe what works and then use the insights to match the campaign message and the tailored product or service to the right targeted people.
Popular Advanced Analytics Techniques
Through advanced analytics, businesses get further ahead in understanding their customers than ever before. That alone can bring innovation and change to any organization – the successful outcomes depend on how well you understand and effectively manage the decisions. So let's take a look at some of the popular advanced analytics techniques used to inform decisions with data.
As a subset of AI (artificial intelligence), machine learning is used in advanced analytics to help intelligently answer key business questions. It operates on algorithms that help interpret the data holistically and sift out important information that is relevant to the needs of the company.
With this advanced analytics technique, historical data is used to grab insights and determine the direction of future trends and values. It can for example easily give prediction on the future behavior of customers based on past data.
With this technique, various images, diagrams, and dashboards are created so data is communicated effectively and shown in a way that can bring concrete ideas and trends forward.
This technique revolves around the process of transforming unstructured text into a structured format and identifying patterns in it. Through the patterns, meaningful insights are derived and new trends can appear that have not been noticed before – something very valuable for any business.
Getting to Know Advanced Analytics: Types
There are four basic types of advanced analytics that all add value to the journey of an organization towards a better understanding and usage of data. The goal of all types of advanced analytics is to equip the specialists in all departments of the company with a natural way to describe past results, understand why they occurred, predict what the future brings and choose the next steps wisely. Here are the four types of analytics that usually bring results.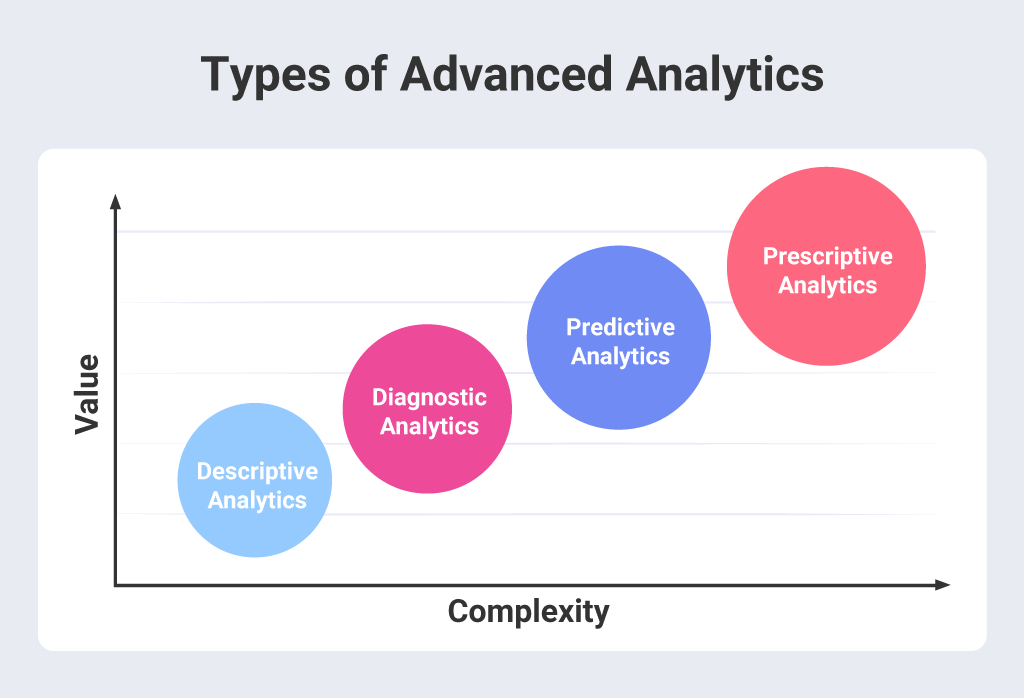 Descriptive analytics (What happened?)
This type of analytics answers the question of "what happened" by looking and analyzing data from multiple sources that provide valuable insights into the past. Descriptive analytics doesn't, however, explain why certain events have occurred.
Diagnostic analytics (Why something happened?)
In this type of analytics, historical data is measured against other data to derive an answer to the question of "why something happened". It gives an in-depth look into particular issues and understands the reasons for them.
Predictive Analytics (What is likely to happen?)
Here, we are answered the question "what is likely to happen" through findings of data that detects trends showing what is very likely to transpire in the future.
Prescriptive Analytics (What action to take?)
This type of analytics helps organizations make trustworthy decisions on next steps by identifying opportunities and promising trends to follow. 
Аccording to a survey, descriptive analytics is chosen most often by companies (58%), next to predictive analytics (36%) and diagnostic analytics (34%).
4 Advanced Analytics Examples
To understand advanced analytics and its benefits even better, it's good to look at actual examples for its usage inside organizations. Here's what advanced analytics can be used for in a hands-on environment.
Evaluate market competition
Identifying data patterns that show what customers are anticipated to be lost, the likely effects taken actions will provide and analyzing where to take the resources, the investments and the effort.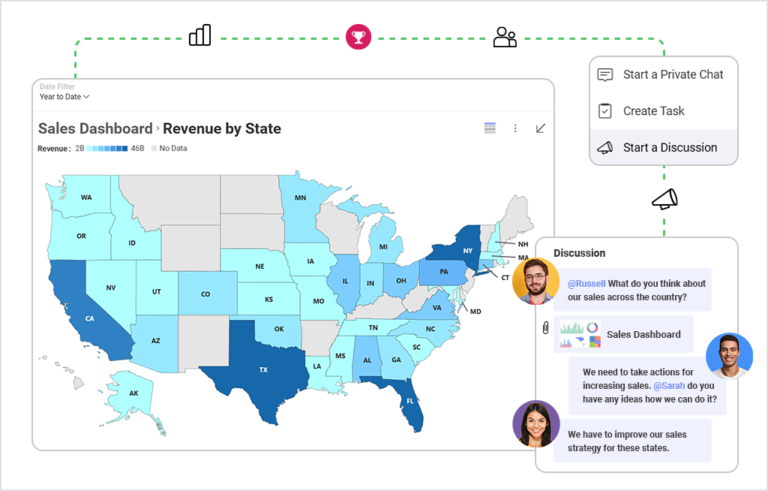 A big advantage of advanced analytics is its ability to help with product innovation and improvement. Through data, deeper insights are gained into what works, what needs to be re-designed and what to put the emphasis on with new product development.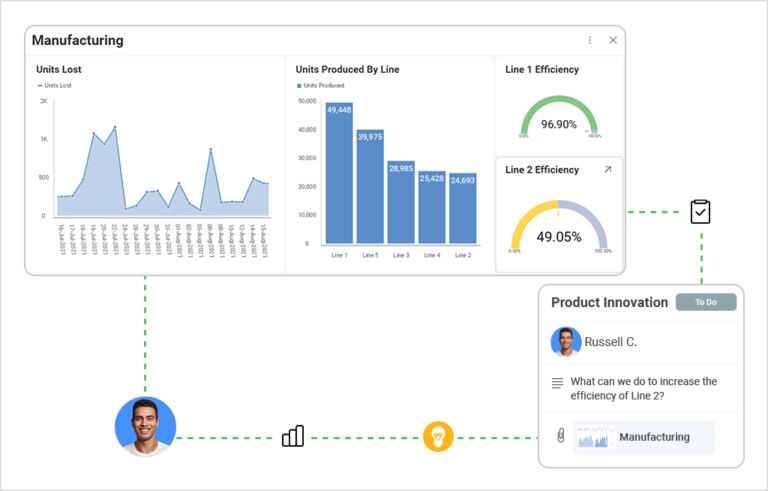 Streamline processes for increased productivity
By using data dashboards, companies can give real-time information and access to their customers' life cycle. That way sales and marketing departments can stay aligned on campaigns and activities, boosting productivity through streamlining commercial operations.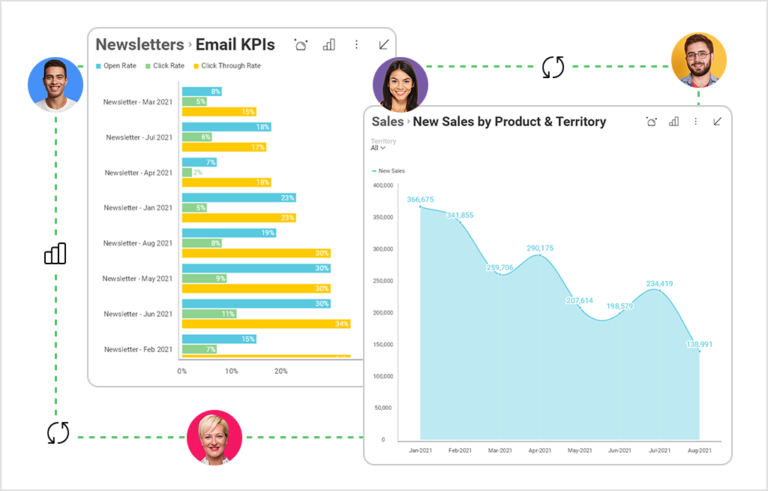 Develop smarter strategies
Especially in marketing, using the data around sales and results of campaigns is essential. With dashboards, key information about your campaigns can be visualized to show all the relevant factors that need to be considered in the next actions and strategies, to grow the customer base and overall success. That way approach can be personalized and the customer experienced optimized in the best possible way.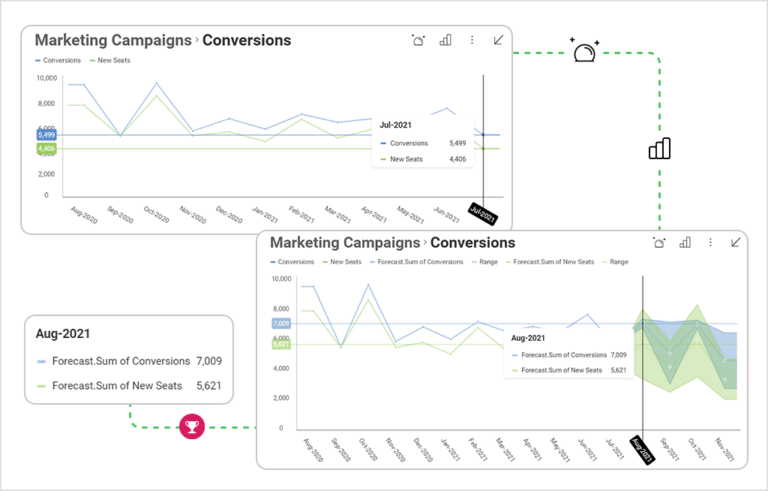 Integration of advanced analytics across an organization can bring forth a lot more potential in future endeavors and identify potential vulnerabilities, so that they can be avoided in time.
Advanced Analytics Solutions: Slingshot
Businesses need to rely on data more and more – and advanced analytics gives the best opportunity for a seamless drive forward. But to open the door to your company data's full potential, you need to choose an advanced analytics software solution to use in your daily operations workflow. With Slingshot, all necessary mechanisms for utilizing data in the best possible way are within a single digital workspace that provides project and/or progress information at a glance.
Here is a quick overview of the Slingshot features that can help any organization get better with data in no time.
Slingshot has a full BI engine, where you can direct to your data sources and create beautiful dashboards, with full support for machine-learning and cloud-based AI. Тeams are now empowered to make their decisions through data thanks to the app's analytic functionality – it allows for making better choices, strategies and achieves better performance overall.
At its core, Slingshot is centered around data-driven characteristics that help teams stay on top of current data for campaigns, through dashboards, KPI tracking, and KPI indicator spreadsheets that are converted into data analytics which is then easily shared.
Connecting to the data in a meaningful way has never been easier. Slingshot provides all needed insights for your team – task tracking, due dates, paid campaign results, project progress, and discussions in the context. You can seamlessly transition from insights to action.
Dashboard creation and usage in Slingshot brings all your data together into a full 360-degree view of your business. With a full business intelligence engine inside Slingshot, you can quickly connect to your different data sources and create dashboards within minutes.
Statistical Functions for Better Insights
Slingshot offers a set of statistical functions that allow you to receive more insights from your visualizations. With the Outlier detection function, you can see points that deviate from the average values of the rest of the points in the data series; the Forecasting function enables the prediction of the data for a given data series (for example, a forecast for the sales of two products in 6 months); and with the Linear Regression function, you can see the relationship between two variables with a linear equation, so you can evaluate an on-going tendency.
Slingshot is simultaneously a business intelligence tool that provides you with dashboards and analytics, a chat platform for easy collaboration, a project management software, and a planning tool for the team, helping with ownership, division of tasks, and keeping tabs on progress and/or issues. Interested in learning more?
Going One Step Further: Embedded Analytics
Advanced analytics can benefit your business like nothing else, bringing truly meaningful decision-making into the picture and creating an easy way to build working strategies for your marketing campaigns. But what if you wanted to take it one step further? Your advanced analytics can now go directly into your enterprise business application, with embedded analytics.
By integrating embedded analytics into your business applications, you will be able to easily:
View, edit and create sales, KPI dashboards from your app
Provide dashboards in context with other features in your application
Connect your different data sources for easy access
Turn on and off features for your end-users or customers
Total control over the security and look and feel of the data in your app
Customize actions based on your customers' interaction with dashboards and visualization
And much more!