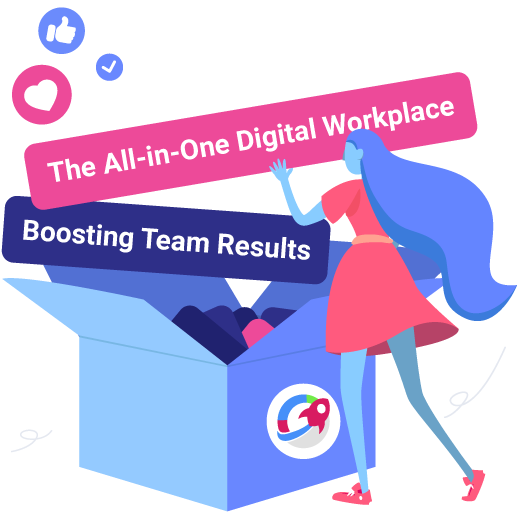 Asana's Alternative: Comparing the Pros & Cons to Slingshot
In this article, we review the key differences between Slingshot and Asana to help you make up your mind and choose the perfect solution for your team.  
Bilyana Petrova
14 min read
Project management software offers many advantages to organizations – from effortless project planning and better team collaboration to increased productivity and remote work simplification, to name a few. But since you're reading this article, you already know that, and you have come to the time when considering which project management app to choose for your team and business.
There are plenty of tools to choose from, one of the most popular of which is the Asana project management solution. 
But is Asana the right platform for your organization's needs?  
In this article, we introduce you to Asana's alternative project management software Slingshot – and review the key differences between the two to help you make up your mind and choose the perfect solution for your team.
What Is Asana?
Founded in 2008 by Facebook co-founder Dustin Moskovitz and ex-Google, ex-Facebook engineer Justin Rosenstein, as a tool to improve Facebook's employee's productivity Asana is a project management and team collaboration tool that specializes in organizing, managing, and tracking your daily work. The product was commercially launched in 2012.

What Is Slingshot?
Newly developed and commercially launched, Slingshot is designed to take enhancing productivity beyond just task management. Slingshot is the only team collaboration tool that integrates data analytics, project, and file management, chat, goals, and long-term strategy all within one digital ecosystem. 
The product is part of the Infragistics company (founded in 1989), an organization with 30+ years of experience in developers' tools, application design tools, and most recently business intelligence tools.

Asana VS Slingshot: Features
Experience and expertise matter, but when it comes down to choosing the right solution for your needs what matters the most are the features that a given solution offers. In this part of the article, we'll go through the key features and functions of both software so you can clearly see what differences between Slingshot and Asana.  
Asana's Key Features
Now let's explore the key features of Asana project management software:
Project & task management – The team's workflow can be organized into shared projects and teams can create tasks with assignees and due dates within those projects – from start to finish. In Asana, projects can be broken into sections and in two styles – Kanban and list.
Asana's task manager feature allows you to create, schedule, and prioritize tasks. You can add attachments, and dependencies, and customize fields. 
Cons of the project & task management feature: Asana doesn't allow tasks to be assigned to more than one user. That is to make clear who is responsible for what, but sometimes a task requires teamwork. In Asana, you can create multiple duplicated tasks and assign them to different team members, but in our opinion, this is very inefficient. It might work for small teams but imagine having a task that requires the work of 20 people – good luck keeping track of it.
There are a variety of other functionalities that Asana's project management feature offers such as custom fields, forms, custom templates, dependencies, and more. Some of these functionalities could be very beneficial, but unfortunately, if you want to use these features, you'll need to upgrade to Asana Premium.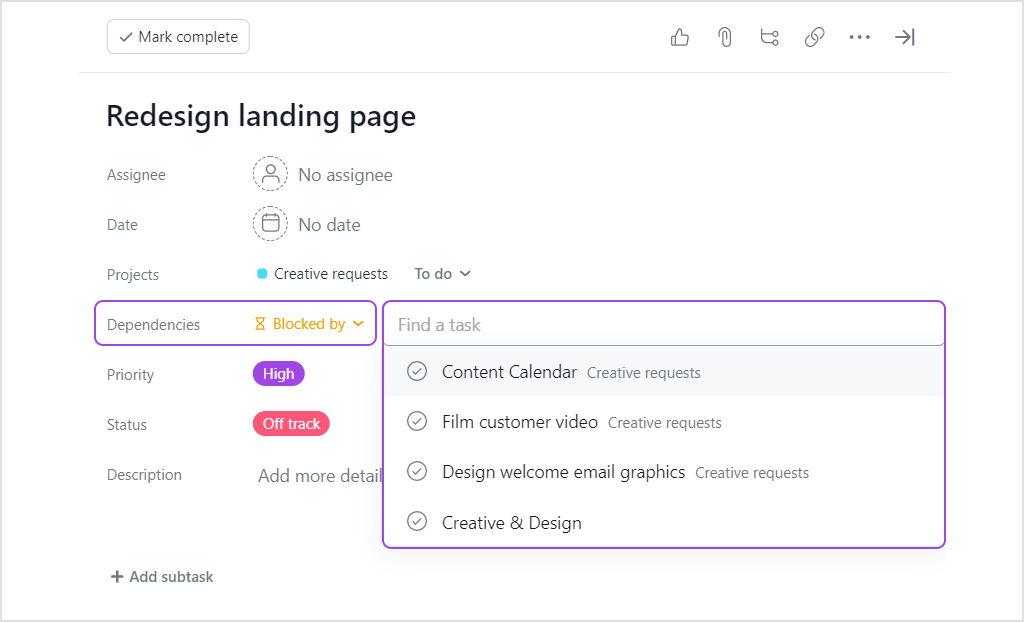 Reporting – Asana's reporting feature allows you to turn your hard data into easily digestible reports. The reporting dashboard covers project insights such as task completion over time and budget projection. Reports can be filtered to show just the data you want to show to update stakeholders and can be shared in a number of formats.
Cons of the reporting feature: This reporting feature is good for understanding the metrics behind your tasks, but it doesn't expand into all other metrics that are important so you can properly run your business, improve your products or services, deliver a better customer experience and ultimately drive higher profits.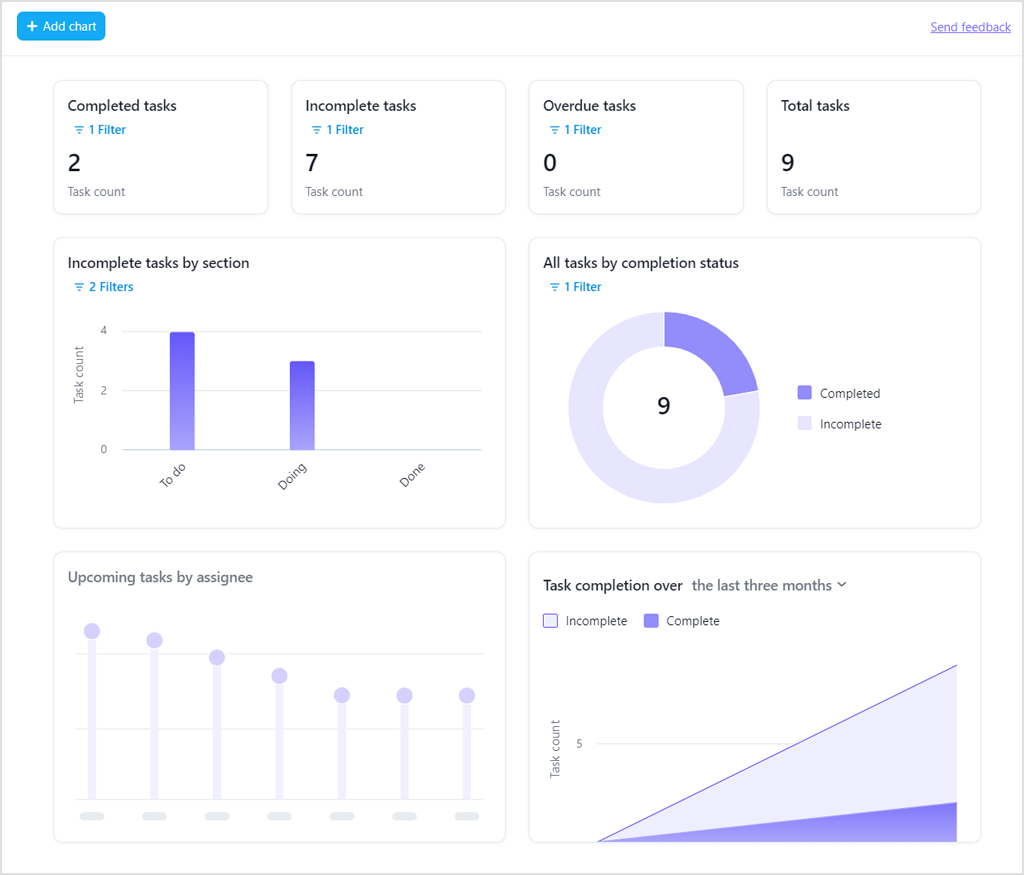 Communication – Team members can communicate on task and project levels by leaving comments asking questions or sharing important details related to the project / task. There is a separate conversation space for all team conversations and announcements, as well as team members, can privately talk to one another in the 1:1 chat. Asana's communication feature also has the functionality to add team members as followers to the communication thread, so they can stay in the loop and get relevant notifications with task updates.  
Cons of the communication feature: Asana promotes email functionality which allows users to forward emails to turn them into Asana tasks. Does that mean that you can manage your email in Asana alongside your work – no. Users complain about the number of email notifications they receive from Asana. And although you can easily change your settings not to get notifications, you still need to deal externally with the biggest time killer of all – your email.
Slingshot's Key Features
Slingshot's key features include transparent project management to improve team alignment and trust, accurate and insightful data visualizations to improve decision-making, simple, smart, and intuitive file management to improve organization, and in-context and real-time chat to improve communication. Slingshot is a great solution for small and big companies from various differences, as well as startups that are looking to expand.
Project & task management – Slingshot's project management features make managing multiple complex projects at once a piece of the cake. When you have all of your projects available on one screen in front of your eyes, you can easily track the progress of each project, instantly see roadblocks and know what exactly is causing delays and identify blockers in your projects before they become a real problem. You can easily organize all tasks in lists and sections, choosing between different types of views (list, Kanban, timeline), and manage every single task through its life cycle from planning to execution. Tasks can be assigned, subtasks created, and dependencies and priorities set. URLs, external content, cloud-storage files and documents, and analytics dashboards can be attached to every task, so you can have everything you need in the context of your tasks.  
Data analytics – Slingshot has a full BI (business intelligence) engine seamlessly integrated within it where you can directly connect to your data sources and create beautiful dashboards. With the power of the data analytics solution, your team will no longer need to waste time trying to analyze spreadsheets but instead have more time to focus on the insights gathered and make decisions based on facts.
Data analytics is important for businesses, as it helps, understand data in a meaningful way which comes with plenty of benefits. It can predict customer trends and behavior, enables faster and better decision-making, increases business productivity, can help solves problems, and prevent the occurrence of such. Data analytics can also help in optimizing and improving customer experience, streamline operations and support the delivery of more relevant and better products. 
By always having access to real-time data, you can also evaluate your marketing campaigns, personalize content and analyze the competitors. Furthermore, data analytics supports the setting of realistic goals, reduces costs, and increases revenue.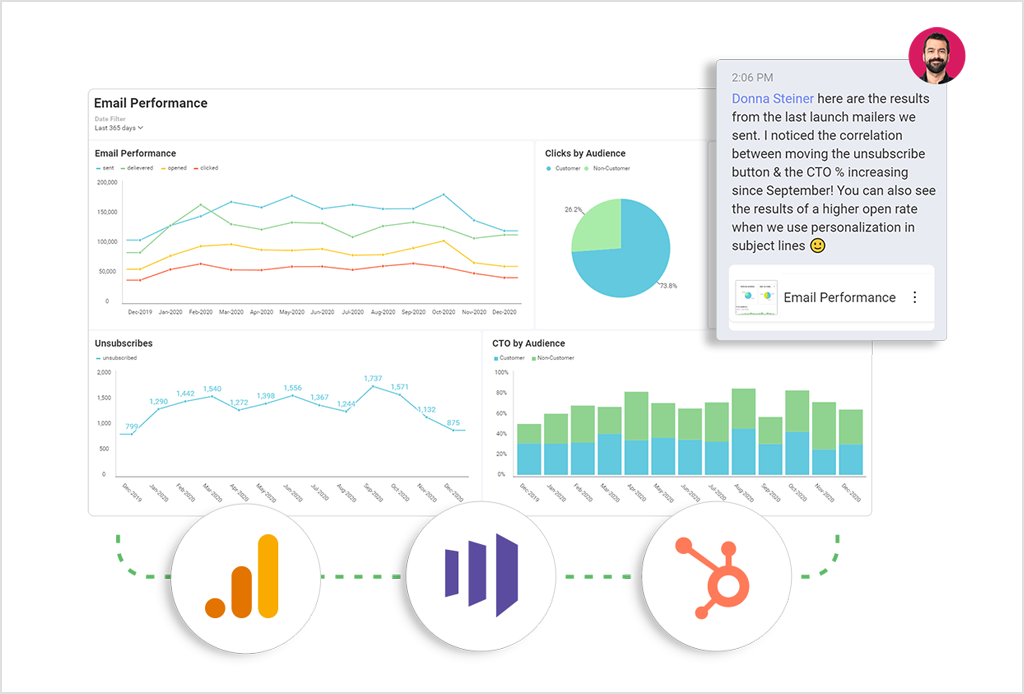 Cross-functional team collaboration – Focused conversations and in-context collaboration are fundamental for every team's success. Slingshot's collaboration feature is designed to help teams be more productive and work together more efficiently by providing them with the opportunity to collaborate and communicate on one single platform. You can share feedback, comments, and ideas on a project and task level that could be easily converted into new tasks, so you never lose the flow of thought and creativity. Furthermore, there is a dedicated discussion tab where the entire team can discuss key topics, brainstorm ideas and suggestions, and overall have on-topic conversations. 1:1 chat makes it easier to collaborate with individuals on projects and tasks that are related to both parties.
Content management – No more hunting and searching for files and documents! Slingshot brings together all of your key content under the same roof. Integrate directly to Google Drive, OneDrive, SharePoint, Dropbox, Box, or another third-party cloud storage provider to keep your team documents neatly organized in one place, so everyone can easily access them at any time.
Productivity flows – Slingshot's productivity flows are designed to work seamlessly to enable continuous collaboration workflows, help teams cut across collaboration silos, prevent work disruptions, and make it easier for teams to work better together.
In Slingshot ''productivity flows'' are what connect all of the different features in one app together, so you can accelerate work efficiency in a single click. Here are the top 10 productivity flows of Slingshot:
You can start a chat with someone or a group of people from inside a task.
Create team or project-level discussions directly from a task. 
Create a task from any pinned piece of content or URL
Create a project or а team-level discussion from any pinned piece of content or URL in Slingshot
Create a chat with someone or a group of people from any pinned piece of content or URL
Get right in to create a dashboard from any pinned Excel or Google Sheet.
Create a chat with someone or a group of people from insights in a dashboard.
Create a project or team-level discussion from insights in a dashboard.
Create a task right from insights in a dashboard.
Create a task right from within any conversation you are having in Slingshot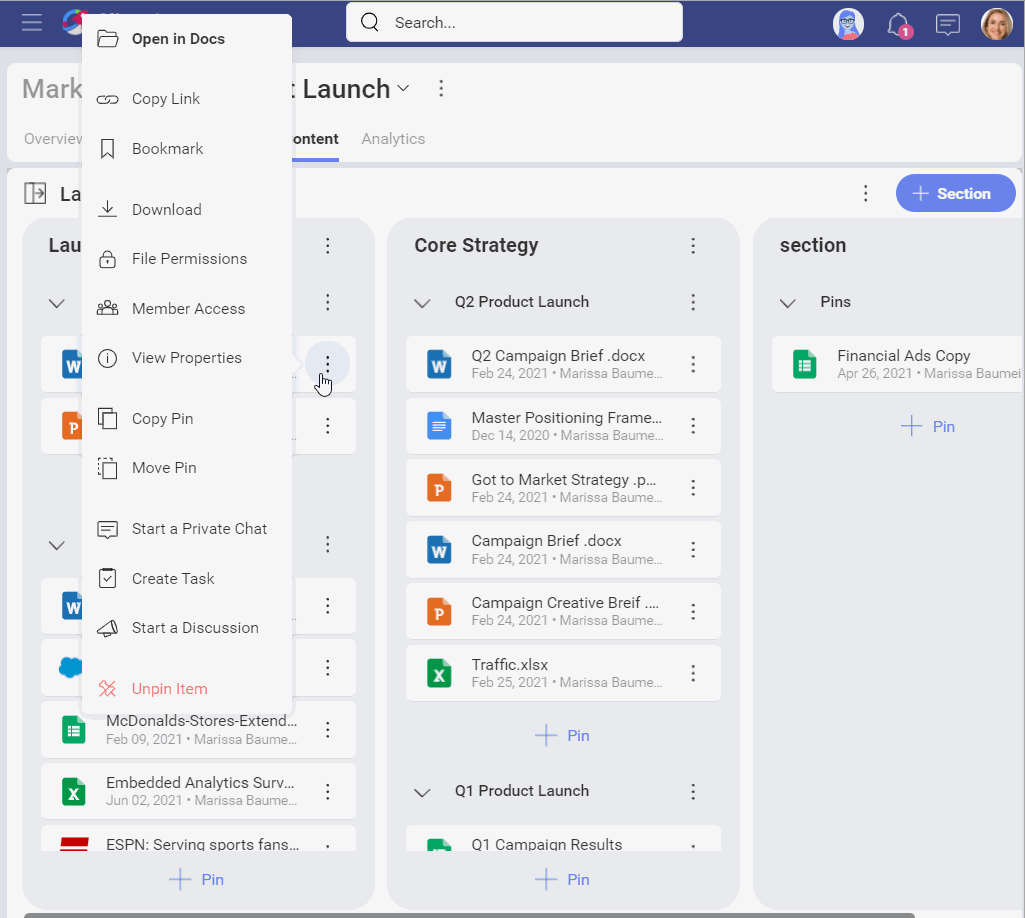 Asana VS Slingshot: Access
Nowadays, people need access to their work no matter where they are. That's why it is very important to choose a solution that has a native mobile app and can be accessed from everywhere and from any device. In this area of comparison, both Asana and Slingshot do well as both are available on Web, Desktop (Mac & Windows), and have native Mobile apps (Android & iOS). Asana's mobile app is not as great though – if you want to check the status of a task quickly it's fine, but if you want to get some productive work done on the mobile app, that will be challenging.
We recommend testing how the mobile app works and how intuitive it is before you invest in any. Mobile is changing the way we work and as we are hardly ''offline'' anymore, everyone should have access to their workspace at their fingertips. Remote employees or employees that duties require moving around a lot are not always going to be in front of the desktop, so providing them with a solution that allows them to manage projects and tasks, collaborate with team members, stay on track and never miss an important update even on the go, is a must.
Asana VS Slingshot: Security
When focusing on the features of the two project management solutions, don't forget about the importance of data protection and security.
Data Privacy & Security in Asana
Asana provides a set of in-product data protection and admin controls to give you greater visibility and control over your data. Enterprise admins can securely deploy Asana to their organizations with multi-factor authentication, SSO, and SAML 2.0
Asana offers global data residency options to ensure customers have more control over where their data is stored – USA, Europe, and Japan.
Data Privacy & Security in Slingshot
Built on top of Microsoft and Google, Slingshot inherits all the underlying security for data access and administration from today's most advanced systems, including 2-factor authentication. All your data is encrypted to enable secure collaboration without requiring a corporate VPN. Slingshot encrypts data at rest, in transit, and in temporary memory cached disk.
Slingshot supports a single-tenant database and gives organizations the ability to choose the country or region where to store their encrypted data – US, Europe, and Japan.
Asana VS Slingshot: Cost
Pricing is an important factor when choosing your project management solution. So, let's see how both Asana and Slingshot charge for their services. If you're still wondering between the two this might help you tilt the scale in one's favor.
How Much Does Asana Cost?
Asana is free to use for teams of up to 15 members. However, Asana's really useful features are not included in their free plan. If you really want to benefit from Asana, organizations, and teams that are bigger and want more features and functionalities, customization options and security, can choose from one of Asana's paid plans.
In addition, Asana doesn't fully replace all other tools that you're currently using and need to get work done. That means that in order to complete your tasks, you need to pay for other tools too – such as Power BI for its business intelligence capabilities or Slack for the team and individual communication as well as shared channels to talk directly to clients.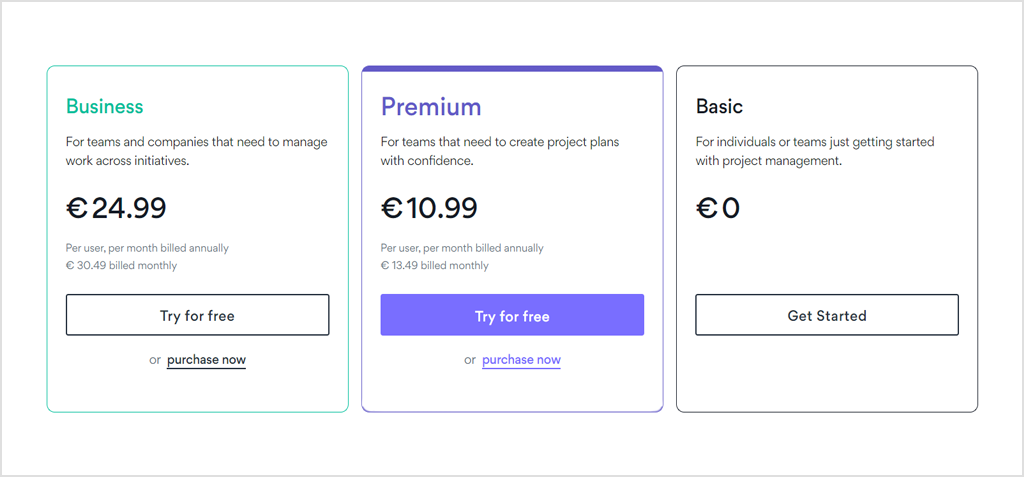 Asana offers a 30-day free trial.
P.S. Asana is one of the most expensive project management tools on the market, so you should seriously consider if it's effective and efficient enough to be worth the money.
How Much Does Slingshot Cost?
Slingshot also offers a free version that is suitable for individuals and small teams – it allows up to 2 workspaces. Organizations and teams that want to manage across initiatives without limits can choose between Slingshot's two paid plans.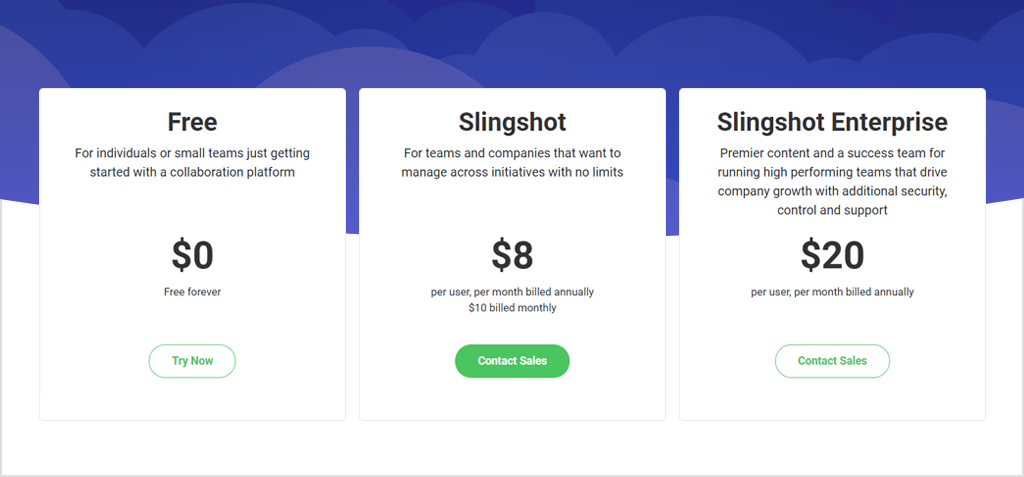 Slingshot offers a 15-day free trial.
Wrapping It Up…
Both Slingshot and Asana are great tools to manage your projects and tasks, and both will defiantly simplify your current workflow. But is one better than the other?
We think that Slingshot's data analytics feature is a HUGE advantage that should be seriously taken into account. As Tim O'Reilly says ''Who has the data has the power'', data brings tremendous opportunities to drive more revenue and increase profitability.
The price of Slingshot is also better. Asana is the more expensive tool for which you get less for what you pay. On the other hand, Slingshot is cost-effective and the more you use it, the more it will prove to you that you in fact get a lot more than what are you paying for.
Another major difference between Asana and Slingshot that is in favor of the second is that while Slingshot is really an all-in-one solution that incorporates everything you need to get your work done in one centralized place, Asana is more of a point solution – meaning that is great for task management, but lack in many other areas, and you still need to use other tools to do the same things that you can do in Slingshot alone.
Don't just take out word for it, see for yourself – try Slingshot today.